It was a chilly and sunny morning on Saturday, Feb. 28 as participants prepared to run or walk a 5K around the California Lutheran University campus. This year was the third annual Color Dash, with about 130 participants completing the 3.2 mile race.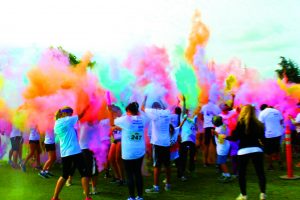 The event began at 8 a.m. and finished around 11:30 a.m.
The runners met in Kingsmen Park at 8 a.m., where they checked in and socialized with other runners.
This year, before the race, the runners listened to the inspiring words of Jason Jaggard of Spark Good, a company that puts on workshops and keynote speeches for both organizations and individuals.
"This year was a lot of fun. The speaker was great, and it got everyone pumped before the race. It just inspired us to say that we are meant to do something bigger than ourselves," said sophomore Andy Queen.
Participants lined up to start in Kingsmen Park and continued up the hill towards the cross, then back down towards Samuelson Chapel and around campus, crossing the finish line in Mount Clef Field.
Graduate student Janet Jamesson said she liked the race because she was able to enjoy the nature and scenery of campus.
"I really like how we go on the hill so we can see the surrounding  [area] of CLU that maybe people don't usually see," Jamesson said.
Along the way, stations were set up to provide water to participants in order to keep them hydrated throughout their 5,000-meter trek.
However, water stations were not all participants encountered during the event. Set up along the course were stations of "dasher-splashers" who are volunteers  that throw paint on participants as they pass by, covering participants in hues of blue, pink, purple and green.
Sophomore Daniel Lacey was a volunteer for the event and was responsible for throwing paint at participants as they passed by.
"For me the best part was spraying all the people with all the color who were motivated to run. And going through the tunnel, we created this cloud of blue color. They just were going nuts. It was a lot of fun," Lacey said.
Upon reaching the finish line at Mount Clef Field, participants were provided with snacks such as granola bars, fruit and water. Each participant was also provided with a small amount of paint.
Once the final participant crossed the finish line, the participants were asked to gather around in the field for the final send-off of the event. On the count of three, the participants threw the paint they were given into the air, creating a large cloud of red, blue and green paint.
When the cloud of paint cleared, participants were covered in the bright colors. They were taking pictures, laughing and conversing with other participants about the race.
"It was really nice to see everyone coming together and having a good time. It's good for people to come and get involved on campus and it's just a really fun event to have on campus," junior Annie-Claire Lowen said.
Sophomore Shelby Pleiss and Student Events and Activity Coordinator Lisette Barba spent months working with the Wellness Center and ASCLUG to put on the event.
"This is my first time planning the event. I feel good about it. It was really successful and we had a great turnout. People had a good time, and it was really colorful," Pleiss said.
"We're really excited and hope to bring it back next year and make it bigger and better and have even more community involvement," Barba said.
Samantha Chittenden
Staff Writer
Published March 4th,2015