Eight Plays, 80 Minutes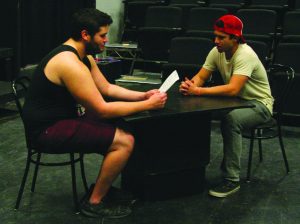 Theater arts students at California Lutheran University are presenting "Skewed Perceptions," a show of eight 10-minute plays on March 12-15 in the Blackbox Theatre.
Seniors with a theatre major or minor produced the program, operating together as an independent production company called "No Offense Productions (None Taken)."
"Some [plays] might shock people, at the same time really 'wow' people," senior theatre major Jenna Nelson said. "All in all, it's going to make people walk out and think."
The project is part of the theatre capstone course taught by professor Michael Arndt.
"I want to be able to give them the skills to be able to go out in the real world and know how theatre operates, how it really operates," Arndt said.
Arndt said the class begins by everyone reading through dozens of existing plays and deciding which to produce. Out of the eight chosen this year, three are student written.
"They have a small budget. They have to produce it all for under $1,000, and that includes paying royalties for all the plays," Arndt said. "And then they do all the technical work."
Michelle Miller is a Cal Lutheran senior and the director of "Lures," one of the original plays.
"It's completely student-run and produced. That's the awesome part," Miller said.
Members of the class were involved at every stage from holding auditions, casting actors collaboratively, juggling volunteers' schedules, directing rehearsals and dealing with technical aspects like lighting and sound.
Jordan Oram, a senior double majoring in communication with an emphasis in advertising and public relations, and theatre, wrote an original play called "The Waiting Room." He said the project is good for communication and business students.
"Invest in doing something like this because it really puts you into a real-world situation," Oram said.
Patricia Jaramillo, a senior double majoring in theatre and psychology, is codirecting another original play called "God Hates Figs." Despite studying theatre, she doesn't plan on pursuing it after college.
"I got my degrees. I can work. I have a job," Jaramillo said. "I'm going to write music."
However, Jaramillo said her theatre degree is still valuable to her.
"A theatre degree teaches you things that you theoretically wouldn't learn in any other major," Jaramillo said.
Oram said skills like time management, staying on top of deadlines and handling pressure are strengthened in the class.
Arndt said the students and their production company have taken ownership of the program.
"For instance, there are a bunch of deadlines due, and the deadlines have been set by the students themselves, and so they're having to hold each other responsible for meeting those deadlines," Arndt said.
As far as the content of the plays, audiences can expect to be provoked and challenged, Jaramillo said.
"There are plays about sexuality, there are plays about abuse, there are plays about insecurity," Arndt said.
To describe the show, Nelson quoted part of a proverb often attributed to author Cesar A. Cruz.
"Theatre should 'disturb the comfortable and comfort the disturbed,'" Nelson said.
"Skewed Perceptions" runs in the Blackbox Theatre March 12-14 at 8 p.m. and March 15 at 2 p.m. Admission is free.
Jeff Baker
Staff Writer
Published March 11, 2015