Track Opens Conference in Heat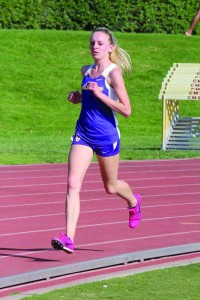 On a hot and sunny day this past Saturday, March 7, the California Lutheran University men's and women's track and field teams took on conference opponents for the first time this season.
The first Southern California Intercollegiate Athletic Conference quad meet was hosted at  the University of La Verne.
Although all SCIAC teams partook in the meet, Cal Lutheran only competed against La Verne and Pomona-Pitzer in terms of scoring.
Both the Kingsmen and the Regals ended the day losing to both conference opponents, with the men's final scores tallying 108-50 and 99-63, while the women's final scores tallied at 94-67 and 84-79 against La Verne and Pomona-Pitzer respectively.
Although the final scores reflected losses, the Kingsmen and Regals fought hard all day through the heat, showing flashes of greatness in many of the individual efforts put forth.
"It was really hot out there, but our team did a really good job of sticking together," assistant coach Brett Halvaks said. "We had people always out there cheering for other events, and we had some great individual performances in certain races."
The Kingsmen and Regals ended the day with 10 first place finishes, with the men notching three first place finishes and the women taking home seven.
Junior sprinter and jumper Amanda Hamilton, took home first place finishes in both the triple jump and 400-meter dash.
Hamilton is one of the top returners and team leaders this year, and pointed out a silver lining in the team's performance on Saturday.
"Overall, I think we put up a good fight. We're a really young team so I think that had a big role in the outcome of today," Hamilton said. "It just showed us how much we really need to be more serious during our workouts and putting in the extra effort to get there."
The freshman on both the men's and women's teams did not back down from the challenge however, and notched a handful of top finishes throughout the day.
Kingsmen, freshman sprinter and jumper Michael White took first in the long jump with a jump of 6.62 meters. Regals, freshman hurdler Savannah Sipes took first in the 400-meter hurdles with a time of 1:07.70. She was closely followed by fellow freshman Carlie Burow who finished second at a time of 1:08.59. Burow would also take home first place in the high jump, clearing 1.52 meters.
Freshman sprinter Teigan Schentrup took third in the 400- meter dash with a time of 59.47 seconds, and noted how the meet served as a reminder to the team about what their level of performance needs to be.
"Because there's a lot of freshman, it allowed us to see what the SCIAC meets are actually like and how we really need to bring it every time," Schentrup said. "But there was a lot of team support and a lot of cheering each other on."
The Kingsmen and Regals also took home first place finishes in two field events. In the women's javelin throw, junior Allie Hadley finished first with a throw of 43.47 meters. Hadley is another top returner this year and continues to assert her dominance in the field event.
For the Kingsmen, junior thrower Michael Bassette took home a first place finish in the shot put with a distance of 15.51 meters.
The Regals distance runners also had a good showing at the meet, taking home first and second in the 5000-meter dash. Senior distance runner Melissa Skiba finished first with a time of 18:41.82, while sophomore distance runner Sarah Parsons took second with a time of 20:15.39.
The resilience shown by both teams battling through the heat was something to be happy about, and as Halvaks said it will only help them get better.
"You battle through adversity and you get better and tougher through times like this," Halvaks said. "Hopefully we come out stronger, and I know we will because we have a good group of kids."
Joe Dalecio  Staff Writer  Published March 11, 2015