Shot Putting His Way into Season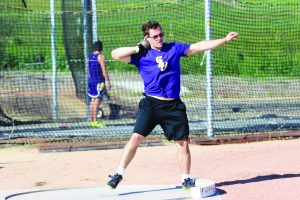 Perhaps you know him as the 6-foot-3-inch guy that walks around campus blasting music from his backpack, or as a thrower on the California Lutheran University track and field team or maybe you just know him as "Big Mike".
Michael Bassette, a junior track and field athlete, represents the Kingsmen in hammer throwing, shot put and discus.
"Throwing is what I do. That's my passion within track and field, and shot put specifically is something that I've been doing increasingly well in over the years, and I'm interested to see where that takes me," Bassette said.
"Michael won last years SCIAC Conference with a throw of 15.63 meters. Last weekend at our third meet of the year, he set a new personal best at 16.39 meters," Curtis Hodge, Cal Lutheran's throwing coach said in an email interview.
Bassette grew up in Southern California and his passion for sports started at a young age. He competitively swam for eight years and then pursued football in high school.
"I've kind of always had a background in athletics," Bassette said. "Some of the other coaches and teachers and friends of mine who knew me on campus as the big guy, or the weightlifting guy, dragged me into it."
It wasn't until after he joined the track and field team that Bassette discovered his passion and enjoyment of the sport.
"I wouldn't be surprised to see Michael earn an opportunity for a Cal Lutheran athlete to throw in the Division III Nationals where the top 23 athletes in the country come to compete," Hodge said.
Mike's primary reason for doing track and field is the camaraderie between the team.
"As individualized as it is, there's a great deal of bonding that occurs when you just practice with the same guys and girls everyday," Bassette said.
Despite his talent, Bassette does not intend on pursuing throwing after college unless an opportunity presents itself.
"His hunger to throw far inspires my drive to be a better coach for all my athletes," Hodge said. "Michael has taught me patience and balance, that while the concepts of throwing are quite ingrained, understanding them can require different instructions for each person." 
Outside the realm of track and field Bassette is currently studying exercise science with an end goal of working as a physical therapist.
However he is not setting anything in stone now and said he is  leaving his future open to many possible career paths.
Bassette also said he shows interest in being a journalist, a music critic or an optometrist. He is open when it comes to his future and even more so when it comes to his passion for music.
Many of Cal Lutheran's students have probably passed Mike on campus blaring music from a portable speaker within his backpack.
"I don't know exactly why I'm so interested in music. I think that it can say things a lot better then I can, which is why I let it speak for me so often when I walk around campus," Bassette said.
Bassette said he has approximately 400 albums memorized from start to finish. This includes order of songs, lyrics and the individual notes. His library consists of thousands of albums.
"When you find something that you're so fond of, something that I would say that I love very dearly, one of the greatest pleasures I find, is being able to share that love with people," Bassette said.
Bassette said Bob Dylan, Simon and Garfunkel, Radiohead, Pink Floyd, Weezer, The Rolling Stones, Kanye West, Public Enemy, The Beatles and ACDC as just a portion of the bands and artists that he is interested in.
He started out listening to the music in his backpack at a quiet volume until he got a positive response from the Cal Lutheran community.
"As people kind of opened up to it and it became a part of my identity, I don't hesitate to blast it anymore. That's what people see or think of when they see me, and I like providing that for people. I like being unique in that way. I feel like I have something to offer people when I play my music," Bassette said.
His selection of music to play while walking through campus depends on many different aspects.
"I draw a lot of inspiration in my selection from the environment, like how the weather is and whether it's a Friday or a Monday," Bassette said.
Next time you see Mike on campus, listen up. He likes to share this art form with the community and you may find interest in the variety of music he brings to campus.
"Perhaps the most important goal of mine in life is to be graceful, because grace, not aggression, I think is the prime indicator of strength and I wish to be a strong person in more ways than one," Bassette said.
Jennifer Birch
Staff Writer
Published March 11, 2015