Ten contestants competed against one another for the title of Mr. Kingsmen in the Preus-Brandt Forum on March 10. Winner Nolan Monsibay, Mr. Hawaii, was crowned Mr. Kingsmen for the second year in a row.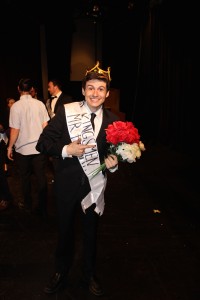 "It's really nice to come out and hear the support of my friends, and it's just such a fun event that I really look forward to," Monsibay said.
The Associated Students of California Lutheran University Government Programs Board hosted the Miss America themed male beauty pageant.
The contestants were nominated to compete on Feb. 13 at a tabling event, according to Junior Board Committee Chair Amber Trujillo.
Four seniors, three juniors, two sophomores and one freshman competed against one another in a beauty, talent and swimsuit portion of the show.
Mr. Kingsmen opened with a choreographed dance to "Uptown Funk" by Mark Ronson and Bruno Mars performed by all  the contestants, followed by a chance for each participant to represent his state in the beauty pageant.
The Preus-Brandt Forum was filled with laughter from the audience. Every seat was taken, and students lined the walls of the front, back and sides of the building.
"We have a team that monitored how many students came into the forum. Once we reached around 350 we started turning people away," Trujillo said in an email interview.
Junior hosts Chris Hartman and Riley Herrera kept the crowd entertained throughout the night and helped the transitions between acts run smoothly.
Every student was given a raffle ticket prior to being seated for Mr. Kingsmen, and the hosts raffled off gift cards to Chipotle, Coldstone, Olive Garden, Starbucks and Regal Cinemas.
"That is the busiest I have seen Mr. Kingsmen," sophomore representative on ASCLUG Programs Board Shelby Pleiss said. "It was a little crazy but that means people had a good time and that's why we do it."
The talent portion of Mr. Kingsmen was filled with high energy from each contestant.
"It was very entertaining. I thought a lot of the candidates' talents were better than previous years. It was very entertaining to watch," senior audience member Kendra Varney said.
Some of the talents included runner-up Tetteh Canacoo's dance to a mash-up of songs including "Single Ladies" and "Lose Control," Perry Lee's lip synced routine to "Ignition" and dance to the "Little Einstein's" theme song and Nolan Monsibay's improvised duet with audience volunteer Samantha Winters.
"Tonight was actually a really busy night for me," Monsibay said. "I had to go conduct the orchestra directly before this, so this whole week I've been preparing for that, and then I ran straight here afterwards. So it was just kind of all winged."
There were a few technical difficulties throughout the night. The texting polls for voting were supposed to be open during the show, but the technology was not cooperating. When the polls opened at the end of the night and students could vote for their favorite contestant, many students received a text that said, "Poll has received maximum number of responses allowed."
"We used walkie-talkies to communicate everything that was going on. Even though there were some technical difficulties, I feel like it was still a great show," Trujillo said.
Toward the end of the show the contestants performed a last group dance together in their swimwear.
"My favorite part was definitely the end when all of the Kingsmen were doing the group dance," Varney said.
The Programs Board improvised with an audience scream-off to narrow the contestants down to the top five. The top five contestants were Canacoo, Lee, Jimmy Sweeden, Danny Chavez, and Monsibay.
Each contestant then answered one random question. Monsibay's question was "In your opinion what makes someone a legend? Name a legend," to which he answered with a comical response and on a more serious note, Craig Gruenberg, his high school choir teacher.
The event was concluded with a texting poll where students could vote for their favorite contestant. Only a total of 43 votes were counted. Monsibay received 21 votes, Canacoo received 19 votes, Lee received two votes, Sweeden received seven votes and Chavez received one vote.
Jennifer Birch
Staff Writer
Published March 18th, 2015