On March 3, California Lutheran University was visited by guest speaker Molly Palmer, an accomplished NBC news producer who has journalism in her blood.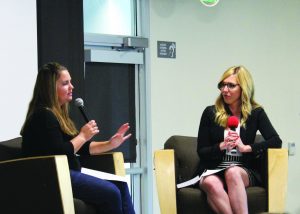 Molly Palmer is the daughter of the late John Palmer, a veteran reporter for NBC news with a career that spanned 40 years.
John Palmer passed away in 2013 but left behind a legacy in television news, which includes time as NBC News' White House correspondent, news anchor on "Today," coverage of the Civil Rights Movement, 9/11 and more.
Molly Palmer spoke to students about her father's extensive career and his memoir "Newscatcher."
"He was really a reporter's reporter. He took the time to get the story right and took the responsibility of being a journalist incredibly seriously," Molly Palmer said.
She said keeping cool under pressure was the most important thing she learned from her father, but her favorite memory is when her dad dropped her off at the airport to go to college.
Junior communication student Natalie Kalamdaryan attended and was inspired by Molly Palmer's work.
"It was amazing getting to hear from Molly. It makes everything we're striving for at CLU reachable, and we definitely need more speakers on campus," Kalamdaryan said.
The event was organized and moderated by Cal Lutheran adjunct Jannette Jauregui.
Jauregui said she met Molly Palmer in 2009 when she worked with her in Los Angeles as a production assistant. Jauregui said she believed Molly Palmer would be a great guest speaker for students.
"She clearly has a great amount of advice to share, but she can relate to you and me," Jauregui said. "The experiences she's had make her a great person to come out and give advice to students."
Jauregui reiterated John Palmer was a kind man and how his kindness rubbed off on his daughter.
"Her dad's humility definitely  rubbed off on Molly because I really didn't know the connection when I worked with her on the "Today" show. I think that's one of the things that will always stand out the most about Molly [Palmer]. How down to earth and humble she is," Jauregui said.
Molly Palmer also spoke of her own career, advising potential journalists of the inner workings and options in the field.
Molly Palmer said she began as an intern for the "Today" show, and knew it was the career for her.
"I liked the whole creative process of being able to sit down with an editor and really put a piece together," Molly Palmer said.
She has been working for the Los Angeles bureau of "Today" since 2006 and is an Emmy Award-winning producer. Molly Palmer covers a wide range of stories from hard-hitting news, to sports, to inspiring stories.
She said the best advice she could give any student applying for an internship would be to do their homework on the location to which they will apply. She said  internships are looking for consistency in their work, but also be able to "wear many hats," like production, editing and working a camera.
As for her own career, she has covered many events but said tragic stories are where she learns the most.
"I think my favorite thing that I've done in my career are the more difficult stories," Molly Palmer said. "Covering tragic stories are difficult as it is, but I feel like I've learned the most from those situations and how to deal with people."
She said specifically that covering Gabrielle Giffords when she was wounded by a shooter in Tucson, Arizona or the movie theatre shootings in Aurora, Colorado were the stories that stuck out to her the most.
However Molly Palmer said her favorite stories were highlighting people who are making a difference in their communities.
"I've worked on a series for a couple of years now with Al Roker called 'Lend a Hand' where we get to choose different charitable organizations that are grassroots and show people why they are making a difference," Molly Palmer said.
Both her father and mother were in the news industry, which she admits was helpful in getting her foot in the door. However she described how hard she worked for her position.
"No one is entitled to the jobs we have," Molly Palmer said. "It helped that my dad worked at NBC for me to work as an intern for the 'Today' show. There's no question about it, but what I did do with the experience? I worked very hard."
Molly Palmer said she encourages young communication students to get experience through internships, getting contacts and  doing their homework.
Mary Callaway
Staff Writer
Published March 18th, 2015