Attention CLU, Cefola Loves You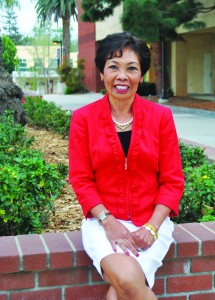 Penny Cefola, an English professor at California Lutheran University, moved from Thailand to the United States when she was 27 years old.
"I was born in a village in Thailand, actually, about 500 miles northeast of Bangkok. So it's near the border of Thailand and Lowes," Cefola said.
Cefola grew up with five brothers and four sisters. She is the second oldest child but the first daughter in her family. Cefola said there was always great responsibility and pressure on her shoulders to be successful and to be a positive role model for her siblings.
Cefola received her bachelor's degree in English from Prasanmit College of Education in Bangkok and her master's and doctorate in applied linguistics from Georgetown University.
"In college I had a scholarship. The scholarship came from the Thailand government. That means when you graduate you have to work for the government or you pay them back four times the amount," Cefola said.
When Cefola graduated from college, she went to work for the United States Army. The Thailand government was trying to hire her to teach English, but she declined the request.
One day while working for the U.S. Army, she came home to find her apartment empty. Her father had moved her belongings back to their house. Cefola's father told her she was going to move back in with them, teach for the government and that he had found her a husband.
"My father was afraid I would marry an American. You know, it was not acceptable at the time. Being the first daughter I couldn't do that," Cefola said. "When my father moved me home from my apartment to marry me off, I did go back home to live with them. But only for a month, long enough for me to pilfer all my clothes out of the house."
Cefola's boss at the time gave her the money to pay off her debt to the Thailand government and told her in return he wanted her to study in America.
"He told me that whatever money I made working for the U.S. Army, to not spend it but to just give it to him and he would send it to the bank in Virginia," Cefola said.
Cefola left her parents' house and moved back to Bangkok where she lived for four years.
"I was working for the U.S. Army and the CIA branch as a translator during the day and teaching Thai for the University of Maryland at night. After four years of not communicating with my parents, I then went home to say goodbye to them and leave for Georgetown University," Cefola said.
When Cefola arrived in the U.S. she had only applied to one school, Georgetown University. Cefola said she didn't have the money to apply to other schools and she had already been accepted to Georgetown.
"When I came to the U.S. I had to work four jobs. I never slept," Cefola said.
After completing her education Cefola met her husband, who at the time was a lawyer but is now a judge. Cefola and her husband were set up on a blind date through a mutual friend. When she met her husband she was already established and had paid all of her student loans.
Cefola said she started teaching English because she fell in love with the language.
Cefola said most students always feel professors do not care whether students will succeed or not, but she said she wants her students to know she loves her job teaching and, most importantly, her students.
"In fact I always ask them, 'Do you know what CLU stands for?' They always say 'No, we don't know.' And I reply it stands for, 'Cefola Loves You,'" Cefola said.
Rebecca O'Hearn, a senior English major, said she first took a course with Cefola when she enrolled in her writing class, and from there she was inspired to be an English major.
"She helped me develop my writing through the process of re-writes. I see her as a great mentor," O'Hearn said.
Joan Wines, a English professor at Cal Lutheran, has known Cefola since she began teaching at Cal Lutheran. Wines said at the time Cefola was teaching an English as a second langauge program and they both shared an interest in ESL issues.
"We collaborated on a lot of little projects that are directly related to the goals of just the English program," Wines said.
Cefola and her husband both have a strong passion for helping people. Cefola said whenever people come to you for help, you should help them if you can afford it.
"She is a philanthropic person. She does a lot of giving. If somebody is sick she'll go and help them," Wines said about Cefola. "If somebody needs extra money, she'll lend it to them or give it to them."
O'Hearn said Cefola is a very warm and kind person, and she makes sure to connect with each student to get to know them.
"Dr. Cefola is a magnificent teacher who tries to establish personal relationships with her students," O'Hearn said. "She does this through personalized PowerPoints with one student's name on each slide."
Wais Niazi
Staff Writer
Published March 18th, 2015