'Cinderella' Reboot is Cinematically Pleasing
As every huge movie franchise releases reboots and other remakes of the same thing, yet again, Disney decided to let us know they too can do the very same thing with their live action remake of "Cinderella."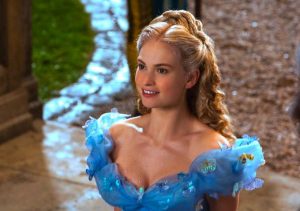 With a talented pool of actors, astounding costume design and a different, yet original take on the classic story, "Cinderella" may actually surprise your preconceived notions of what this movie would be like. I was quite surprised myself.
Thanks to the thorough direction of Kenneth Branagh ("Thor" and "Hamlet"), the story of Cinderella has never been told in a more cinematically pleasing way. The angles, the cuts and the action directions were all very well done. For the most part, the cheesiness factor was pretty low, but it still had its moments. It is Disney after all.
Narrated by Helena Bonham Carter, "Cinderella" is the story of young Ella (Lily James) who is left under the cruel care of her stepmother after her father's sudden death. As a little girl, Ella's real mother tells her to "always be kind and have courage," something Ella must choose to listen to once the journey of her story begins.
Ella's stepmother, played by the dexterous Cate Blanchett, forces her will onto Ella by making her live in the house attic after having her own room in the house. Ella's only real way to cope with this new lifestyle comes with the help of her animal friends' company. She sings, talks and spends time with her mice friends as she continues to find herself throughout the film.
Eventually, after sleeping by the fireplace and waking up with ash on her face, Ella's stepsisters give her the nickname Cinderella. Hurt by their cruelty, Ella goes for a ride through the forest, and she stumbles upon a very unlikely stranger. This stranger is none other than the prince himself, played by "Game of Thrones" star Richard Madden. Madden, who played Rob Stark in the hit TV series has found his role by consistently playing royalty in most projects he's appeared in. What can I say, I guess the guy is good at being a prince.
After this chance encounter, both Ella and the prince become infatuated with one another. Since she never tells him her name, the prince convinces his father and counsel to open the invitations for everyone in the kingdom at the next upcoming ball. The king (Derek Jacobi) who is slowly dying increases his will onto his son to find a princess at the next ball.
When word spreads throughout the land, girls everywhere begin to freak out at the possible chance of winning the prince's heart. When Ella's stepmother and sisters hear the news, all hell breaks loose. Their only new goal in life is to get one of them married to him. Ella's stepmother's cruelty continues when she forbids Cinderella to attend. She even rips Ella's dress apart which was given to her by her biological mother.
However, like in any good Disney story, all things eventually come full circle. Due to her innate kindness and generosity, Ella helps out a beggar woman who asks for some milk. Still distraught over her stepmother's heartlessness, Ella continues to show her true character and is kind to the woman. After the woman recognizes Ella's kindness, this is the moment she reveals to Ella she is indeed her fairy godmother (Helena Bonham Carter).
With a touch of magic, her fairy godmother turns her whole night around by providing her with a carriage, horses, footmen and coachmen so she looks like she's royalty. Oh, did I mention she gets a rad makeover on her dress? Disney does not mess around when it comes to costume design – that is just a fact of life.
Overall Lily James plays a very sweet, humble Cinderella who you can't help but love. Cate Blanchett does incredibly as the cold stepmother who is only after possessions and not anything that really matters. This film proves to always be kind to all, for you may never know who you're helping out. Disney didn't do incredibly well with this project remake, but they didn't do terribly either. Plus, this is just one of the many reboots Disney has planned. There are still many more to come.
Evan Engel
Staff Writer
Published March 18th, 2015