Exposed to the Real World
California Lutheran University's Career Services hosted the Career and Intern Expo on March 17 from 10 a.m-2 p.m. where students were given the opportunity to meet a variety of potential employers.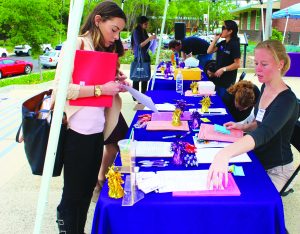 "The Career and Intern Expo is a chance for students and alumni to come and look for internships and jobs where all of the employers are in one spot, and all of the employers that are attending are hiring," Director of Career Services Cindy Lewis said.
The expo, which was located on the spine, was targeted to give both current students and alumni the ability to network with 108 different employers, give resumes out and make connections for potential future employment, according to Lewis.
Employers from a variety of fields had tables set up on the spine, and students could approach them and talk about future opportunities.
"We've got a number of employers that are from a lot of different industries. So for instance, this year we've got education, criminal justice, social services, plus the traditional business that you're going to find," Lewis said.
Companies in attendance included Sage Publications Inc., Mary Kay Cosmetics, Los Angeles Police Department, Target, Thrivent Financial, Wells Fargo and American Income Life.
"Most students that attend the expo and bring their resume and give it to a number of employers end up with interviews the following weeks," Lewis said.
Mary Kay Sales Director Joyce Murphy said she got something out of being at the fair.
"I felt like I walked away with several people that I think will be great additions to my team,"  Murphy said.
This event allowed students to see how many options there are after graduating from Cal Lutheran.
"It was a positive experience to meet and make connections with possible future employers. It was exciting to see how many career options are waiting after graduation," sophomore Tiffany Caprine said.
Lewis said up to 20,000 employers were invited to be a part of the event. After the invitations  were sent, it was up to the employers to decide on their pending admission.
"We really don't have control of who comes. It just depends on if they have openings or not, so sometimes people are looking for that specific company, but it's up to the companies if they want to attend," Lewis said.
Bruce Borihahn from the LAPD said it gives students exposure to what's there in the job market.
"Now they know what the requirements will be and they know what employers are looking for," Borihahn said.
Students are faced with the challenge of seeking employment and pursuing many different companies after college to find a long-term career. This event may have made it easier for students to approach this task and experience companies they may not have been previously exposed to.
"I think it's good that there are all these employers here, and it gives us a way to have it right at our hands to look," junior Devon Meredith said. "Sometimes it's harder for us to go out and search by ourselves so it's nice having them all right here."
Each year following this event, Career Services sends out an evaluation form to both employers and students who attended the Career and Intern Expo.
The answers from the survey are read and evaluated to improve the experience for participants in the upcoming years.
"We send out evaluations to employers and to students to see what their feedback is, and then before we put on the next event we read it all and we go through it carefully and try to adjust the event," Lewis said.
Jennifer Birch
Staff Writer
Published March 25th, 2015