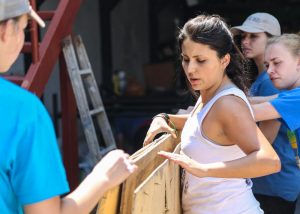 The Corporation for National and Community Service honored California Lutheran University as a leader in volunteering, service learning and civic engagement for the fourth year in a row, according to a press release.
"It's a national title that's applied for through the White House, so it's a government [award]," Karen Schomaker, senior coordinator for community service said.
Two thousand students volunteered for Cal Lutheran in the 2013-2014 school year in service learning projects, community service projects and other service activities ,according to the press release.  Cal Lutheran applied for the award beginning in the 2010-2011 school year and has received it every year since according to Schomaker.
"The big part of the award is that they focus on what service you have been doing, and they really want to know. They want to hear the story.  They want to know the story of service on your campus and the results from that," Schomaker said. "So we give a lot of the data and the numbers of how many students have done it, how many programs we do, and then it also focuses not just on the service project that we do in my office but also service learning from the classroom."
Exercise science Professor Louise Kelly is the director for the Center for Academic Service Learning and oversees all service learning projects taken on by faculty in the classrooms.  She has service learning projects in all her classes, along with 15 other faculty members on campus.
"What that center is about is connecting faculty and their students, helping faculty to develop service learning projects in their classrooms so that the students can get the benefit of working with a community partner, and the partner gets the benefit of working with the students," Kelly said.
Community Relations Coordinator Cindy Keitel put the proposal together with the help of Kelly and Schomaker who provided her with photos and stories from different service projects that take place throughout the year.
Keitel has been coordinating this application for the President's Higher Education Community Service Honor Roll for the last four years.
"It's a year-long process because it's everything that everybody does over the course of an academic year that gets consolidated in information that we submit," Keitel said. "So it takes just a few weeks to really pull it together and submit it, but it's a year's worth of work."
Keitel, Kelly and Schomaker agree this award is beneficial not only for the university but also for the students who participate in community service on campus.
"It means that we're recognized as one of the premier, both service learning and community service institutions in the United States," Keitel said.
Cal Lutheran has a large variety of service projects for students and faculty members alike, including the alternative break service trips and class service projects.
"We've got really smart, innovative students at Cal Lutheran and I think that having this grant really highlights the fact that we are committed to the greater good, students finding their purpose and doing service in communities," Kelly said.
The Cal Lutheran mission statement, according to the university's website, is "to educate leaders for a global society who are strong in character and judgment, confident in their identity and vocation and committed to service and justice."  The recognition from the federal government is affirmation of the continued success of the community service programs on campus.
"Many students choose Cal Lutheran because they already have a well-developed sense of vocation and want an environment that fosters opportunity to serve others,"  Keitel said.
To get involved with community service or service learning on campus go to the Community Service Center website for a list of opportunities.
Katrina Petty
Staff Writer
Published March 25th, 2015