'Tunnel of Oppression': a Learning Experience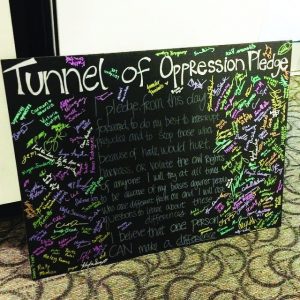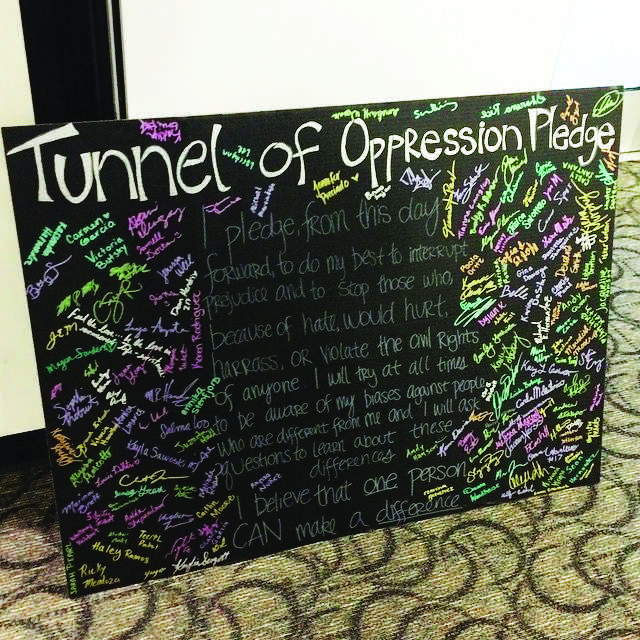 From 8 a.m. – 5 p.m. on March 18 California Lutheran University had its first Tunnel Of Oppression  on campus. The Black Student Union, Feminism Is, Psychology Club, PRIDE, and the Psy-Chi and the Neurodiversity club helped put on the event along with event leader Kacy Cashatt.
This event has been a four-year vision for Cashatt, who said she originally got the idea from her sister who started a tunnel of oppression at Cal State University,  Channel Islands. According to Cashatt the process wasn't easy, but she met Andy Hanson last semester who helped her make an outline of what she had envisioned in order to make it a reality.
"I thought this would be a great learning experience for the students at Cal Lutheran," Cashatt said. "Especially since our school is so privileged, some people may not fully understand oppression and the challenge some of our peers face."
Students were able to attend a 20-minute tour of the tunnel and learn about specific forms of oppression.
Oppression is defined by dictionary.com as "the exercise of authority or power in a burdensome, cruel or unjust manner."
Inside the tunnel students were taught about rape, racist, homosexual and mental and physical disorders of oppression. In each tunnel there were facts of each issue posted all over the wall, and in some there were actors and actresses playing the role of ones who have been affected.
After the tour, the tour group had a debrief session in a separate room about what they learned in the tunnel. Each member of the group also received a card with a story of cases of oppression in the United States. Each member had an opportunity to speak about his or her card and relate it to what they had seen in the tunnel.
Junior Lexi Haan took part in one of the tours and said she thought the tour was eye-opening.
"You can hear about all the types of oppression people go through, but unless you are standing in their shoes, it's hard to comprehend how it feels," Haan said.
Haan said it was shocking how with such little information you do learn, your view on the issue can change so much.
After leading the tour and the debrief, Assistant Director for Residence Life and Student Conduct Nate Fall spoke to the group about different counseling that is offered on campus for students that feel they are affected by oppression or any other problems they would like to talk about.
Fall said the Residence Life staff is trained to speak with students who want to talk about the   issues they may face.
"We know this exists on our campus, and we just want to make [sure] that our students know that there are people always available to care for them for what they need as an individual," Fall said.
Fall said he was extremely proud of Cashatt for finally having her vision come to life and how this was a student led event.
"The goal is to make this an annual event and also to expand it so it can be bigger each year we have it," Cashatt said. "Hopefully in the future we can have 10 rooms instead of two and make this thing pretty big."
Connor Sipes
Staff Writer
Published March 25th, 2015