PatrickReza on the Rise
For many people in college, one spends the course of their academic career figuring out the ultimate career path to take upon graduation.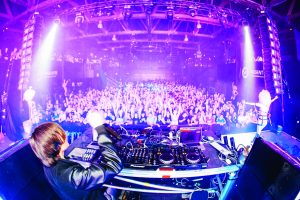 Some may have already mapped out the exact career path they would like to take, and for very few, they have already established their career in college.
California Lutheran University student Patrick Borghei is one of these few.
Borghei is currently on the rise in the electronic music industry. Gaining recognition and praise for his work as a music producer and live performing disc jockey, Borghei goes by the name PatrickReza when he is performing on stage.
Borghei is a 22-year-old Los Angeles native and is currently majoring in music production at Cal Lutheran.
With over 77,000 followers and likes on both his SoundCloud and Facebook profiles, Borghei has been able to reach millions of listeners with the music he is creating, allowing for his career to take off over the course of the past few years.
"Music is such an incredibly therapeutic experience to me, because it really lets me convey all of my emotions and gives my listeners deep insight into my head and life," Borghei said in an email interview.
Since the age of five or six, Borghei has played a number of instruments that have all contributed to his skills in composing electronic music.
In playing instruments for so long, Borghei began to be accustomed to playing music other people had composed, and after seeing the DJ artist Rusko play live at the Avalon Hollywood theatre, Borghei was hooked on electronic music production.
"After seeing his music and mixing move and personally affect me and the others around me, I knew I wanted to start learning the ropes," Borghei said. "With that said, I started to make my own remixes and original songs and found that playing and performing my own songs to a live crowd feels infinitely more gratifying than just playing other people's songs."
After delving into electronic music production, Borghei started with playing his music and being a DJ for house parties. He quickly fell in love with controlling the vibe and music and set his goals toward performing professionally at bigger venues.
With bigger and better venues in sight, Borghei set off working toward getting picked up by an agency and record label.
In working toward his ultimate goal, Borghei began to remix his favorite songs and distribute his work through various online outlets. Through word-of-mouth and music he was able to generate a large online following which led to him receiving offers from studios such as Warner Music Group and Ultra Music to create official remixes for their songs.
One of these official remixes was for the Bourne Legacy movie, where Borghei worked with Moby on the soundtrack and remix production for the film.
Borghei then began to receive praise from some of his biggest influencers in the music industry. Artists such as Bassnectar, Knife Party, Lana Del Ray and Krewella began to take notice of the up-and-coming PatrickReza.
This past year Borghei accomplished his goal of being signed to a record agency. He was signed to The Windish Agency which has further propelled his career toward great new things.
While at Cal Lutheran, Borghei has served as both an inspiration and leader for his fellow music production students.
"He's a great student, academically very strong and he's been a leader in our music production program," said Dr. Mark Spraggins, music department professor and chair. "He's setting a very high standard for a lot of the other students."
Spraggins also said how it's not only Borghei's academic and music skills that have set him in front of the pack.
"He's come in with quite a skill set, and while he's here he's been broadening his skills," Spraggins said. "In particular, he has a really good sense of how to market himself and where to emphasize his resources."
In the future, Borghei said he hopes to continue to play at much larger venues with Coachella and Electric Daisy Carnival set in his sights now.
"Everyday I wake up I am really proud to see my music further reaching people and ends of the earth I never expected it to," Borghei said. "To see all my hard work start to pay off is an incredibly rewarding feeling, and I am infinitely thankful for my family, friends and fan base that continue to support my dreams and music journey."
Joe Dalecio
Staff Writer
Published March 25th, 2015