Ice Cream Meets the Cannabis Industry
As of this year Colorado, Washington, Alaska, Oregon and the District of Columbia have not only decriminalized marijuana but are the first to have legalized the use of marijuana for recreational use.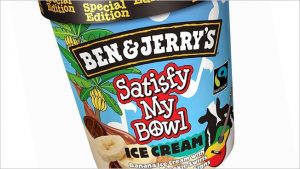 The use of medical marijuana is legal in 23 states, according to the National Conference of State Legislature. As the end of the prohibition of marijuana seems to be coming to a close, there are those in the business world who are ready to pounce on the potentially lucrative market that will be created.
Founders of the popular ice cream company Ben and Jerry's, Ben Cohen and Jerry Greenfield, have recently expressed their interest in the possibility of introducing a cannabis-infused ice cream once it became legal. In an interview with Huffington Post Live on Feb. 18, Cohen said it made sense to him, and asked, "Why not combine the pleasures of ice cream and cannabis?"
"It's not my decision. If it were my decision, I'd be doing it, but fortunately we have wiser heads at the company that figure those things out," Greenfield said.If I were Greenfield I believe I would entertain the thought as well. Combining an already popular brand with a market that shows such promise seems like a good business idea to me.
I can't blame the ice cream tycoons for wanting to get their company involved in the cannabis industry. According to a report done by Greenwave Advisors, which refers to itself as a "comprehensive research and financial analysis firm for the emerging legalized marijuana industry," the cannabis industry could be boasting a revenue of $35 billion dollars by the year 2020. If those numbers were to come to fruition, that would make the cannabis industry one of the largest in all of the United States. If I'm the head of a corporation who's in the business of making money, this seems like a surefire way to make some. Of course, all this expected growth is contingent on the substance being legalized at the federal level.   
"Even with all the legal barriers that are still in place, it is hard to imagine the heads of these large corporations seeing all the money available in this untapped market and not wanting to get involved," said junior David Rico, who is majoring in business administration with an emphasis in finance.
Even if they aren't expressing interest in being involved in the business of cannabis, companies that deal in tobacco, alcohol and pharmaceuticals are being forced to take notice of what is going on.
"The tobacco companies will probably get involved at some point even if they deny it now," Rico said. "It seems like it would be a quick transition from dealing with tobacco to marijuana, so why wouldn't they?"
One of the biggest hindrances facing the legitimization of the cannabis industry is that the federal government still considers marijuana illegal, and it is still classified as a Schedule 1 Drug according to the Controlled Substances Act.
"One of the biggest knocks on opponents of the marijuana industry is the fact that the industry is lacking in professionalism and a lot of people are still treating it as if it is a criminal activity, but even that is starting to change," Travis Steen said, a junior business administration major. "There are now professionals who used to work on Wall Street, banking and accounting who are now getting involved and it's given the market a form of legitimacy."
Without the backing of banks it has been hard for the marketplace to grow due to lack of funding. But as the tide continues to turn, venture capitalists and hedge funds alike are investing in the company with the hopes that these investments will yield large returns in the end. Up until recently, businesses dealing in marijuana have not been able to get a loan from banks. Owners have been going into their own pockets in hopes of growing their businesses. Now with the financial backing coming in, the growth could come at an even faster rate now than before.
Moving forward, there are many legislative and ethical decisions that must be made as the "Green Revolution," as some are calling it, progresses. Time will tell how well the cannabis industry will fare in the long run, but if these first couple of years are any indication, the marketplace for this product will only continue to grow and make a large amount of people a lot of money.
There is a market for various cannabis-infused and based products to succeed in America. I believe that it just has to be tapped into correctly. If the government and business figures can work together to help foster the growth of this new market, the results that it could yield will be enormous.
Alix Moise
Staff Writer
Published March 25th, 2015