Concert Showcases Future Talents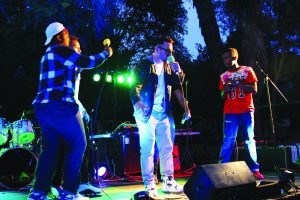 The California Lutheran University music industry management class held the second annual Cal LuPalooza in Kingsmen Park on April 10.
Junior Austin Linkous, the event planner for Cal LuPalooza, said the event is a showcase for the music production students on campus.
"The music production department doesn't really have big events throughout the year. The music management class put this event on as a showcase of all the talent around the school," Linkous said.
Unlike last year, this year's event was a larger setup according to Linkous.
"We have more bands, bigger setup Friday night, and we have a lot of vendors actually, where we have a lot of art companies coming out showcasing what they have," Linkous said.
The vendors included a vintage clothing company, an artist who paints custom Vans shoes and custom guitars, Fender Music Foundation, iCLU radio and a longboard company.
"We are trying to improve local people, people who have differences, and we can support them because they're art in their own way," Linkous said.
There was a variety of music genres being played which included rock, hip-hop and a little bit of pop and jazz. The performance that seemed to win the crowd over was the hip-hop group The F.A.E.s. The performance featured Matt Paparella performing the song "I Just Can't Wait."
"It was awesome. We had a nice crowd come to the stage. I had a good hype man in T-Low, and the energy was good. We [had] been working on those songs day and night producing our own beats, making our own lyrics, making our own hooks and we finally got to enjoy it," Paparella said.
Rothschild said he thought that the crowd gave the performers good energy.
"We had our hype man T-Low start it up for us, obviously, to get it started, and once that happened and the beat dropped, it was a wrap from there," Rothschild said.
Junior Nolan Forghani performed acoustic R&B. His sound and creativity seemed to win the crowd over as he started to blend hip-hop songs together using his own style with his voice and acoustic guitar. He was encored by the crowd and performed one extra song.
"That was my first encore. Nobody ever made me do another song, so it was fun getting the crowd into it, and bringing the energy up just made me feel so much better on stage. It makes me do better and gets me more comfortable out there when the crowd gets into it, so I love that," Forghani said.
The spectators watching the performances seemed to be having a good time during the festival as well.
Junior Jenessa Well said she thought there was a good turnout of people at Cal LuPalooza.
"More people were excited for it, definitely. It was a lot more variety in the type of music also from the rap to the rock. It's also a lot more people and very well put together. It's cool to see your classmates and people that you know performing," Well said.
According to Linkous, Cal LuPalooza is very beneficial to the students at Cal Lutheran.
"The school does a lot of events where they bring stuff on for the students, but it's not a lot of student-led activities," Linkous said. "This is a class that puts this on so it's not only learning for the class but it's like we're showcasing school talent. It's a chance for people at school to learn more about the school and who they go to school with."
If you didn't attend this year's Cal LuPalooza, you should check it out in the years to come.
Randall Shumpert
Staff Writer
Published April 15th, 2015