Moore than Multimedia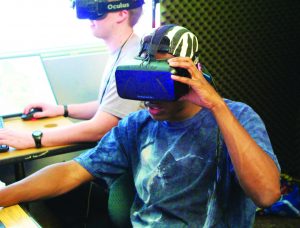 With CLUfest coming up, senior multimedia major Myles Moore knew he wanted to do something to make himself stand out from his peers. Some of the projects other students have been working on include different takes on film, photography and animation for the duration of the semester.
In order to make sure his project stood out, Moore took on the unenviable job of creating an accurate recreation of the Kwan Fong gallery using the Oculus Rift, which is a virtual reality helmet used for 3-D gaming.
From the beginning, Moore knew recreating the Kwan Fong Gallery inch by inch would be no small feat, but he was determined not to cut corners when working on his project.
"I understood the workflow of how I should approach a project in game engine, starting small and doing each part bit by bit," Moore said. "Even with film, you storyboard and plan out the idea before you shoot, and even then so much planning goes into it before you see the final result, including the post-production."
To create an accurate rendition, Moore took pictures of every portion of the gallery to make sure that his recreation was as close to perfect as possible. He sat down for a couple of days just to work on the layout and infrastructure of the gallery before he got into the specific details.
"Getting the windows and rooms and ceilings the right scale was the hardest part, but I really wanted it to be as accurate as possible so that someone could look at my laptop and instantly recognize it," Moore said.
Multimedia professor and chair of the department Timothy Hengst had high praise for Moore and the type of work he has done in multimedia.
"Myles has been a remarkable student who always puts in a tremendous amount of work into his projects, and this one is no different," Hengst said.
Hengst, along with Barry Burns, are the professors for Moore's capstone class. Hengst said that his attitude and dedication in learning new technologies have helped Moore grow as a multimedia artist.
Moore's love for animation and 3-D design stems from a lifelong love of video games that has stuck with him.
"I've always been inspired by video games growing up. Not just simply playing them, but getting lost in the story and artwork and the feeling that just simply the name of a title brings," Moore said.
He lists games such as Kingdom Hearts, Megaman and the Pokemon series as the games that had the largest impact on him growing up. Moore said he hopes to be a game designer or involved in the industry in some fashion and said he hopes to be able to create work that elicits the same type of reaction from others.
The recreation of the art gallery isn't the only thing that Moore will have on display when CLUfest opens on April 18. Moore will also be displaying animation videos he has been developing, as well as a skateboarding video that he worked on with fellow multimedia students Scott Stevens and Jonathan Swecker. Moore is an avid skateboarder who can usually be seen carving his way through campus on his board.
Senior multimedia major Zack Vanderzel spoke highly of the work Moore has been doing this semester and thinks people will be surprised once they see it for themselves.
"Myles' project may really open up a lot of people's eyes because his model of the gallery is so accurate, and it looks so realistic with the Oculus Rift," Vanderzel said.
CLUfest is a huge deal, not only for Moore, but for all the multimedia majors as they get the chance to display some of their work for their families and the campus community. On April 25 there will be a reception where the artists will be present to show their work.
"A lot of hard work has gone into putting this show together, so it's going to be great seeing everyone stand by their work knowing how hard everyone worked to make that night happen," Vanderzel said.
Moore is one of 40 students who will be displaying his artwork for the campus community and  said he hopes people will come out and show support to his fellow artists.
"I am looking forward to it, and I'm proud of every person that helped put it on, "Moore said.  "It's going to be a good show so I hope that people come out to see some things that they normally never see and from people they wouldn't expect."
Alix Moise
Staff Writer
Published April 15th, 2015