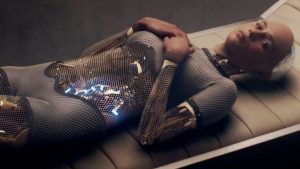 With a sense of eeriness and a touch of manipulating darkness, "Ex Machina" delivers its unique science fiction story in a pristine manner.  From writer and director Alex Garland we see a mind-twisting story develop that will keep you guessing until its climatic end.
"Inside Llewyn Davis" star Oscar Isaac continues to show his fine acting ability as Nathan, the subtle yet cocky CEO of the world's largest Internet search engine company. When Caleb (Domhnall Gleeson) wins an exclusive coding competition to see who will stay with Nathan at his estate for an entire week, he begins a journey that will change his life forever.
Caleb is flown by helicopter through huge mountain passes until they arrive at a vast, isolated property owned by Nathan.  After Caleb is dropped off, he enters Nathan's facility alone as he tries to figure out what's going on. An automated voice talks to him and issues him his own key card to navigate around the house.
Caleb wanders in and eventually finds Nathan, by himself, working out with a punching bag. The two awkwardly meet for the first time, but it's understandable since Nathan is the young, successful CEO that Caleb works for. Nathan immediately reiterates the fact that he wants Caleb and him to be on a friend-to-friend basis with each other all week versus an employee/employer relationship.
Nathan shows him around the place, explaining that if a door has a blue light on it, then Caleb can enter with his card. If it has a red light, then he won't be able to.
Nathan has Caleb sign a unique non-disclosure agreement and explains what he wants Caleb to do there all week: to perform a Turing test on his new artificial intelligence humanoid Ava and see if he can interpret the machine's ability to exhibit intelligent behavior equivalent to that of a human's.
After signing the NDA, Nathan introduces Caleb to Ava (Alicia Vikander).  She has the body structure of a human, with a face, hands and feet made of flesh, but the rest of her body is that of a cyborg. She still appears very elegant and graceful to Caleb. He becomes intrigued with her design immediately.
From then on, Caleb visits with her each day behind a glass wall of the room Ava stays in. They have conversations that reveal Ava's high level of intelligence, but she's never showy about it. Nathan observes their interactions from his video feed control room.
This story isn't your typical laser beam and action filled sci-fi film. Instead, it's a grounded, clever example of what a sci-fi film can be without all the cliché elements. Alex Garland throws many ideas out in the open through his dialogue, but at the same time he's able to entertain the living daylight out of you with pretty much just four characters throughout.  That is not easy work at all.
The real reason this movie works so well is through its never-ending, uneasy feel.  A part of those eerie feelings play into how well polished and constructed the set was.  This allowed the filmmakers to have even more freedom with lighting, which only adds to the noise of the story every time the whole building enters power lockdown unexpectedly.
The cinematography was simple, but artistic at the same time.  If you pay close attention, it even subtly hints at what's to come.  Unlike in Christopher Nolan's "Interstellar", the movie never really asks you to think too big, but instead it only asks you to ponder over idealistic views from the eyes of the characters. This is how the story managed to keep itself grounded, yet remain high in the clouds at the same time.
For only using a few characters all while maintaining a mysterious, manipulating vibe throughout, "Ex Machina" is the perfect movie to see before the blown-up, over-hyped summer blockbuster pictures start hitting theaters in a month.  It will seriously keep you guessing until the very end.
Not only will it mess with your head, but also it will give you the most satisfying movie going experience you'll have this semester during the dullest time of the year for film.
Evan Engel
Freelance Writer
Published April 15th, 2015