Taste of Scandinavia at Cal Lutheran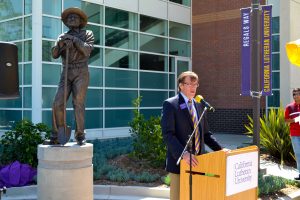 April 18-19 marked the annual Scandinavian Festival, home to food, art, music and knick-knacks for the entire family in Kingsmen Park at California Lutheran University.
According to the Cal Lutheran website, the land that was donated for Cal Lutheran to be built on was sourced from Richard Pederson, son of Norwegian immigrants. Students can see his name on streets around Thousand Oaks and on first-year housing. April 18 was also the day the statue of Richard Pederson was dedicated by the Soiland Humanities building. Richard Pederson's niece, Janet Pederson Reeling, was at the unveiling of the statue.
It should come as no surprise that citizens of Thousand Oaks have been celebrating the tradition and heritage of this city for decades, with an increasing zeal.
Starting from Memorial Parkway guests were greeted by a collection of classic cars ranging from restored and maintained Volvos to a Saab Sonett III.
Visitors were greeted by the numerous food stands serving a range of food from sausages to Italian ice to the funnel cake stand which had a long line.
Much of the festival was focused around the main tent where music played for a relatively large audience. With the main tent in the middle of the park, it served as a reference point to just how expansive this festival really was.
To give an idea, it stretched from Memorial Parkway, down the spine, all around the walkway to Pearson Library, in between the bookstore and Business Office and stopped on the edge of the creek.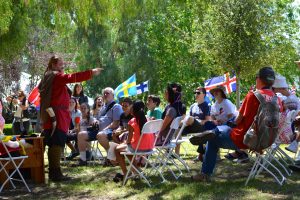 Junior Ryan Riley said he was amazed by the amount of space the festival could occupy.
"I was incredibly surprised how many stands they made fit into Kingsmen Park," Riley said.
This festival is as much a home to a native Norwegian as it is to the kids. With many attractions like the puppet shows and inflatable jumping platforms catering to a younger demographic, it is easy to see why there were so many families there.
Junior Marisa Chata spent Saturday walking around the festival.
"I never knew stuff like this [festival] existed. Who doesn't love food and art," Chata said. "I'm a huge fan of food, everyone knows that, so when it's combined with music and art, I'm hooked."
Alongside the food vendors were art vendors selling original work. A large amount of Scandinavian folklore resides in the art exhibited here with many trolls lining the kiosks.
The festival also featured pottery, including decorative plates which displayed stories.
There was also an exhibit displaying a number of swords. The makers of this metalwork allowed children to try on the chainmail and a helmet.
Tom Fossen brought his son Noah to the Scandinavian Festival and said this is their fourth year going. He said they particularly liked the sword exhibit.
"It's an incredibly close tie between the food and the swords. It makes me want to combine them and start chopping my food up," Fossen said. "I'm not even that Norwegian, but if this is what it means, sign me up."
Riley said he enjoyed the demonstrations with the swords and armor the most.
"The guy running the tent had such a passion for what he did, and I'm assuming he's some sort of blacksmith," Riley said.
It is a special moment when people can be proud of their heritage and share it with a complete stranger. It is a bond that these people will share for the rest of their lives, and it is a very special gift to have this coming together on Cal Lutheran's campus.
Connor McKinney
Staff Writer
Published April 22nd, 2015