'I Truly Feel Like I Have the Best Job in the World'
After a thorough and careful application process, California Lutheran University named Dr. Melinda Roper its newest Vice President of Student Affairs and Dean of Students.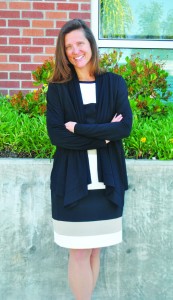 "I've always aspired to be a vice president but it had to be at the right place, and this is the right place," Roper said.
Roper has been working for Cal Lutheran since 2008 and started as the Director of Student Life and Associate Dean of Students. She became the Interim Vice President for Student Affairs and Dean of Students last summer.
President Chris Kimball was part of the hiring process.
"I think we found the best possible candidate to be our Dean of Students and Vice President of Student Affairs, and I hope the student body is really happy with the choice because she is going to be great," Kimball said.
Roper is a Conejo Valley native who graduated from Newbury Park High School. She completed her undergraduate work in psychology at the University of California, Santa Barbara. Afterwards, she completed her graduate work at Penn State receiving her master's in exercise and sports science, followed by a doctorate in student affairs and administration.
Roper said her initial goal was to work with Olympic athletes, but her work at Penn State's Academic Support Center for Student Athletes led her on a different path of working with students, which she discovered to be her true purpose.
"I thought maybe what I really want to do is work with student athletes and not Olympic athletes, and then that kind of evolved into what I found I was truly passionate about, and that was working with all students," Roper said.
Roper took a job in student affairs at Duke University in the student activities office. From there she rose up through the ranks, advanced her career as the Interim Director of the Dukes Women's Center her final year before moving back to Thousand Oaks to accept her new job at Cal Lutheran.
"The job that opened up here was the perfect job at the perfect time for me, and so I was just thrilled that it all worked out," Roper said.
Before taking on the role of Interim Vice President of Student Affairs and Dean of Students, Roper had served as Co-Chair of the Campus Awareness, Referral and Education Team and had been on the team since beginning her profession at Cal Lutheran. Their mission was to raise awareness about the team among students and faculty.
"I think we've made so many improvements. Now we have a dedicated position who does the outreach," Roper said. "It's becoming stronger and stronger."
While Roper served as the Interim, the application process for the position began last fall. A national search was put out to find the right candidate. A search committee of eight faculty and staff was put together and Provost Vice President of Academic Affairs Dr. Leanne Neilson chaired the committee. The search was narrowed down to four candidates from all over the country.
"Roper has over 20 years of experience as a leader in Student Affairs," Neilson said. "She has served Cal Lutheran for over six years, and she understands the needs of students at Cal Lutheran, including residential students, commuter students and adult students in our Professionals Program and our graduate programs."
Roper said her goal is to create a system that best enables students to succeed.
"One of my primary responsibilities is to make sure that every decision we consider as an institution is that we're always being mindful of how that will affect students' ability to be successful," Roper said.
Roper is responsible for overseeing the whole division of Student Affairs, which includes Student Life, Residence Life, Multicultural Programs & International Student Services, Health Services, Counseling Services and Career Services.
In addition to overseeing Student Affairs, Roper said she enjoys the part of her job when she gets to interact with students. She tries to go to as many events as she can to chat with people and see how everything is going.
"I loved being a college student, so for me this is endless college," Roper said. "It's just really, really fun."
Roper is the first woman to have the role as Vice President of Student Affairs and Dean of Students at Cal Lutheran.
"All forms of diversity are important and gender is clearly one of those," Kimball said. "I think it was a historic development."
Roper said she has been privileged to have many wonderful mentors over the course of her career, a number of which were amazing women. Roper tries to continue in that tradition, and being the first woman in this role makes it even more special.
"I think this is an excellent move for the university to hire the first woman to serve in this position," Neilson said.
Roper said she is honored to be taking on the role as the new Vice President of Student Affairs and Dean of Students. She said being at a mission-driven institution about passion and purpose resonates very strongly with her.
"I truly feel like I have the best job in the world, and it's such a good fit for me, and I am just thrilled to have the opportunity to serve the university in this way. I really am," Roper said.
Daniela Abravaya
Staff Writer
Published April 22nd, 2015