Catching the Coltrane to Italy
California Lutheran University men's basketball standout Coltrane Powdrill will travel to Italy this summer to participate in a four-game series in front of European basketball scouts hoping to continue his career by playing professional basketball.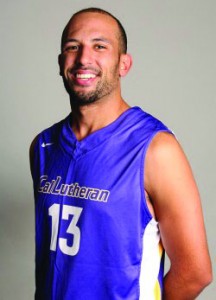 Powdrill was contacted by the assistant coach at Whittier College, Mark Jensen who informed him he had been selected, along with teammate Arik Smith, to participate on the travel team that is going to Italy.
"It was really unexpected to be honest. I was already on the look for some type of outlet to get me connected with the European basketball circuit," Powdrill said.
In his two-year career at Cal Lutheran, Powdrill received many awards including Third Team All-West Region, First and Second team All-Sothern California Intercollegiate Athletic Conference, SCIAC Newcomer of the Year, D3hoops.com Team of the Week and earned player of the week multiple times at the university. Powdrill has also cracked the top 10 in blocks and made free throws.
Powdrill will get the chance not only to play basketball in Italy but also experience the country's culture and visit many of its famous sites. On the trip Powdrill will get to go sightseeing in Rome, Florence and Pisa and also get to visit the Colosseeum, the Arch of Constantine and the Leaning Tower of Pisa.
"I've never been to Europe, but I've always had an urge to travel and was planning to at some point regardless of my career situation," Powdrill said.
In the end the trip is really all about basketball. Each night the team will be playing against local professional teams in front of scouts. Hopefully the scouts will end up offering a contract to the athletes to play for their teams. Powdrill said the leap from playing collegiate basketball to playing professionally will be a challenge. In the end Powdrill said he believes it's worth every second of his time.
"Turning a sport you play for fun into a career is a commitment that demands sacrifice and time.  Being able to manage your body and monitor what you're putting into it is a full-time job in itself," Powdrill said. "But at the end of the day it's worth it because I'm doing something I love."
Since his collegiate career came to an end in late February, Powdrill has been not only enhancing his skills in the gym but also becoming stronger in the weight room.
"Since the end of the season my workout regime has been more specific and much more tedious than the college regime," Powdrill said. "Having more emphasis on getting bigger to compete against the size and strength of professional players has been the biggest difference."
Another aspect Powdrill will soon face is basketball becoming a job instead of a game. No longer will he be a student athlete working toward winning his conference and getting his degree, now he is working to get a contract and get paid to play.
"The biggest difference in my workouts has to be my mentality, and [I have to] approach the sport as a business rather than a game," Powdrill said.
After playing at Cal Lutheran for the last two years, Powdrill will be able to take a lot from his experience here and use it in the transition to the professional level.
"The one thing I will take on with me from the CLU program is that the majority of your progress and success will come from the work you put in outside of practice.  Putting in the time and dedication to your craft will set an individual apart," Powdrill said.
"I think he will do great in Italy. Coltrane's floor game will be great for the European style of play.  Coltrane's ability to create contact, get to the free throw line and hit mid range jumpers is perfect against the style played over seas," assistant coach Geoff Dains said.
Although this experience may be nerve racking for Powdrill, he said he is ready for the opportunity and is eager to get started.
"Traveling to a new place is always a little nerve racking but I've been preparing myself for this since I was a little kid," Powdrill said. "To me, the word anxious comes to mind before nervous. I'm just excited for the opportunity to live out a dream and play professional basketball."
Connor Sipes
Staff Writer
Published April 22nd, 2015