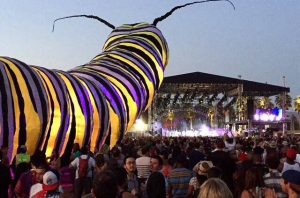 rom Madonna kissing Drake, to AC/DC's performance, to Justin Bieber being kicked out, The Coachella Valley Music and Arts Festival made headlines, Instagram posts and Vines across the country.
For the past two weekends, almost 600,000 people flocked to Indio to attend Coachella, according to the LA Times in an article named "A Coachella attraction you hope to skip: The Lost and Found."
"It's just massive and there probably isn't anything like it anywhere else," said Will Cowles-Meyer, a California Lutheran University senior who worked at the festival.
Cowles-Meyer helped set up some of the tents the festival rented out for their VIP areas. When Cowles-Meyer was not working, he was able to see many of the artists and experience the festival.
"I pretty much got to see everything," Cowles Meyer said.  "Basically our only things we had to do were to make sure that our hard-ups didn't blow over."
According to Coachella's website there were over 200 artists and bands performing and there was a musical group for everyone.
Cowles-Meyer enjoyed AC/DC's performance in addition to some of the smaller acts. Courtenay Patlin, a senior at Cal Lutheran said she was excited to see Florence and the Machine and Jenny Lewis.
Jessie Stockstad, a student at Cal Lutheran said she enjoyed The Weeknd and Mø.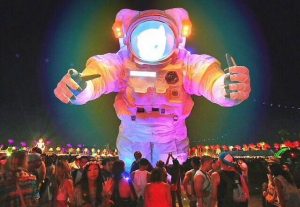 Beyond the music, festival-goers are able to enjoy art and fashion. Over the years fashion has grown to be an enormous part of the festival. Outfits can range from high fashion to a simple sports jersey, to rave wear and even to super hero costumes according to Stockstad.
"People put a lot of time and effort into what they're wearing," Patlin said. "So much so that a lot of fashion companies send out people to take pictures so they can base next season's styles on what people are wearing at Coachella."
Beyond fashion companies, many and websites send out people to seek the best of Coachella fashion.
"If they like your outfit they come up and take pictures of you," Stockstad said.
There are also many celebrities present at the festival. Concertgoers can make a sport of finding them and even talk with them if they meet.
"I was in the VIP section so I saw a lot of famous people that I like and then I saw Justin Bieber," Patlin said. She said she enjoyed being able to talk with some of her favorite artists like the Haim sisters.
Cowles-Meyer said these multiple day music festivals are where the entertainment industry is going. He said he believes there is something in it for performers, technicians, media people and more.
In addition to the fashion aspect, attendees are generally there for the music and the experience. People got in to the music and danced all weekend, to popular artists like Marina and the Diamonds and to other performers as well.
"I think just seeing bands and being with people in the desert that you know you have similar interests with is a fun thing," Patlin said.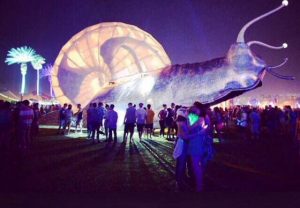 In the end, the festival comes down to the experience and the community. Attendees enjoy being with their friends, having fun enjoying the music and dancing.
"Everyone is there just to have a good time and to see artists and to be with their friends, and it really is a really welcoming atmosphere," Cowles-Meyer said. "Personally if people are on the fence about going they should. I think our generation could learn a lot more about each other just by being at these festivals."
Allie Leslie
Staff Writer
Published April 22nd, 2015