Every so often an individual catches the eyes of a nation, reminding all of life's fragility and purpose. Lauren Hill was a champion of that message, to live life to its fullest, no matter the circumstance.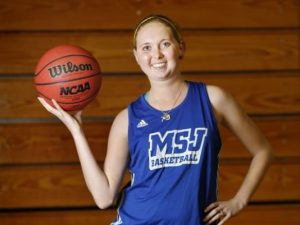 Her determination to continue to play college basketball despite a terminal brain cancer diagnosis gained national attention in November of 2014 when she was featured on a variety of news programs. After an almost two-year battle, Hill  died on April 10.
Hill was diagnosed with Diffuse Intrinsic Pontine Glioma, a form of brain cancer found in children. She was only 18 and a senior in high school with a life-long dream of playing college basketball.
It's a disease that had relatively no funding for research and a life expectancy of only a few years, according to The Cure Starts Now foundation page. The Cure Starts Now is a foundation Hill supported that seeks to cure and raise awareness for DIPG cancer.
However, a life-altering cancer diagnosis wouldn't stop Hill. She said playing college basketball was her passion in life, as she planned to attend Mount St. Joseph University and play for their team.
When the diagnosis came, her main concern was if she was able to even play in an actual college game. Her chances were very slim given the first game was in late November and her condition was only getting worse. She said to her family she dreamed of being able to play in at least one college basketball game.
"I wanted to wear the shoes, and that jersey and feel like a super hero again, because that's what I feel when I put on the jersey," Hill said to CBS news.
According to the CBS Evening News report, Hill's basketball coach saw her determination and contacted the NCAA, and they agreed to move the game two weeks ahead to Nov. 2. They also accommodated the location to prevent long travel, so the game was held at Mount St. Joseph.
Hill was able to make the first and last shot in the game, and her team won. Despite the tumor's advancement and therefore decline of her physical capabilities, she was still able to play. After months of hard practice and preparation, through headaches and fatigue, she said her dreams came true.
She said to reporters after the game that the game was "a dream come true. Everything that happened today was amazing."
Her strong spirit and determination to do what she loved captured the hearts of many, even the California Lutheran University women's basketball team. Head coach Lindsay Goldblatt was especially inspired by Hill.
Goldblatt showed her team the news clips of Hill to make sure that not one team member takes anything for granted. She said to her players that they are able to play college basketball every day, Hill only wanted to play one time.
"There are a lot of people in her situation that don't quite have the notoriety that she did, but what she was able to do with the platform that she was given was unbelievable. She just wanted to play basketball and she got that opportunity," Goldblatt said.
Hill was not only a determined player, she was award-winning. Goldblatt attended the Division I Woman's Final Four, the first week in April where Hill received the Courage Award from Pat Summit, a prominent figure in woman's basketball. Hill was not in attendance because she was too sick, but Goldblatt recalled the emotion in the room.
"The whole arena gave her a standing ovation and she wasn't even in attendance. Her determination was inspiring to so many, that if you want it bad enough, it can be done," Goldblatt said.
The Cal Lutheran basketball players were also moved by her story. Sophomore Cal Lutheran basketball player Katy Lindor found her inspiring to not just athletes.
"Looking at it as an athlete, her story is so inspiring. She was able to overcome and never quit. She lived her life all the way to the end. Even if you're not an athlete anyone can look at her story and be inspired by it," Lindor said.
Sophomore and Cal Lutheran basketball player Haley Hodgson said Goldblatt showed the clips to her players, wanting to show them how the little things can be taken for granted.
"She [Goldblatt] wanted to remind us that 'yes we have practice,  and yes it sucks sometimes, but not everyone has that opportunity. We should value the fact that we are able to walk and play basketball,'" Hodgson said.
People across the country are taking a moment to remember the life of a young woman whose dreams may have been cut short, but continued to fight till the end. Lindor said that everyone can learn something from Hill.
"Never give up and keep fighting. Live your life to the fullest no matter how many days that means," Lindor said.
Mary Callaway
Staff Writer
Published April 22nd, 2015