Huisenga to Join Kingsmen Coaching Staff
he Kingsmen football team is proud to announce a new addition to its coaching staff for next season. Cal Lutheran alumnus and former Kingsmen coach Ryan Huisenga will be stepping out on the field to return to the coaching staff next season.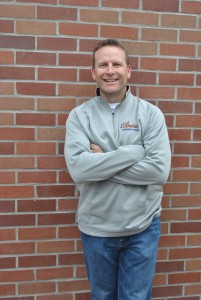 Huisenga will be filling a position he is familiar with at Cal Lutheran as wide receivers coach.
Having graduated from Cal Lutheran in 1997, Huisenga has always kept a close connection with the Kingsmen football team, and he is back to join a program that is close to his heart.
Head coach Ben McEnroe is excited about Huisenga joining his staff for the 2015 season. McEnroe, who is a huge fan of hiring alumni, had an influence on his decision to send an invitation to Huisenga, but they actually have a bond that is much closer than that.
Huisenga was a freshman quarterback when McEnroe was playing in his star senior season in 1992. McEnroe even hosted Huisenga when he was a recruit visiting the campus for the first time.
The ruling to hire Huisenga was also based on his experience of coaching and his impressive leadership skills.
"Ryan brings a wealth of experience to the program.  He's coordinated and been a head coach at the high school level and he has experience coaching at CLU as well," McEnroe said in an email interview.  "He has a sharp mind for the game and has a coaching style that our players will enjoy being around as they get to know him."
McEnroe saw great qualities in Huisenga back when they were teammates as well.
"Ryan is very thoughtful. He doesn't rush into things and he has a cool head.  Those are all positive attributes in a coach, and those things were noticeable back in his playing days and in his personality as well," McEnroe said.
Right after Huisenga graduated from Cal Lutheran he began coaching at the high school level. Huisenga coached for Moorpark High School and was also the head coach for Hueneme High School. There he worked as a social studies teacher as well. It was not until he and his wife discovered that they were having twins that he decided to step back from his head coaching position and returned to Moorpark High School as the offensive coordinator and quarterbacks coach.
Huisenga attributes his love of the game from it always being on and around him while he was growing up. Describing his memories, Huisenga said there was always some sort of athletic activity going on.
In his youth Huisenga did not limit his athletic talents to just one sport. He flaunted his talents in baseball and basketball as well, even giving soccer a try for a season.
It was not until Huisenga's sophomore year of high school that he began to formally play football. This was at Moorpark High School where the head football coach at the time discovered his athletic talent in his physical education class.
Outside of football, Huisenga still likes to stay active. Some of his favorite activates are skiing, running, golfing and of course spending time with his family.
Huisenga and his wife are both Cal Lutheran alumni. They love to bring their boys to games and being able to share those experiences together as a family. Huisenga also acknowledged that him and his wife meeting on campus was a big part in the pull that lead him back here to Cal Lutheran.
"[Cal Lutheran was] a huge building block in who I was going to become as a person. The lessons that I learned here and the friendships I developed really made an impact in my life in the most positive way, and if there is any little thing I can do to give back, then I will," Huisenga said.
The Kingsmen football team has a lot to be excited about with their newest addition to its coaching staff. Huisenga is looking to make a huge impact on the team next year in the fall.
Kevin Repich
Staff Writer
Published April 22nd, 2015