California Lutheran University's men's tennis team had a 9-0 victory over California Institute of Technology on April 18 at the Poulson Tennis Center. The sweep made for a pleasant home finale for Moises Cardenas and Andrew Slater on their senior day.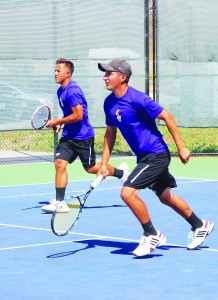 Head coach Mike Gennette said the Kingsmen came into the match strong and everyone was enjoying themselves and having fun. Gennette said it's always a challenge to get the team to focus when they feel like their winning, and everyone did a great job.
"The match of the day was Oliver Thornton because he didn't really want to be here today. He was kind of tired, kind of distracted, and we just created a situation where we convinced him to give it everything he had," Gennette said.
Slater said the team came up pretty sharp in doubles. Slater said they were moving their feet out there, had a lot of good close outs, good overheads and good serves on the court.
"I think as a team we really came together in the fact that our attitude was just good. [We had]  a lot of good shots out there today," Slater said. "We were pumping each other up and that always makes a big difference."
Cardenas said this was hislast match at Cal Lutheran and he wanted to leave with a pretty good show.
"In the doubles we stayed aggressive. We had a game plan, just playing smart and the same going into singles," Cardenas said. "I feel like my ground strokes were solid and serves, I didn't push it too hard. I wanted to focus on the ground stokes and just being aggressive."
Sophomore Fergus Scott had a challenging singles match on court No. 2 but was victorious, winning 6-4, 6-2.
"The most important thing when you play tennis is firing with high intensity and we did that today, which meant that we managed to get the win," Scott said.
Rushikesh Joshi, a junior at Caltech and captain of the Beaver's tennis team, said the Beavers came out with pretty competitive matches, especially in doubles.
"I think one thing we really need to focus on is just in key moments very tight points. I think we have the tendency to get a little bit reserved a little bit conservative," Joshi said. "We need to focus on staying aggressive on those points and really hitting out to believe in ourselves coming through."
Cal Lutheran's next match is a tournament in Ojai next weekend.
According to Gennette, the Ojai tournament is Division III Western United States individual championship for singles and doubles. Gennette said the team has been doing a ton of conditioning so they hope to be in good shape going into the tournament.
"The biggest thing is staying in shape. We're  going to do a lot of running over the next week. We just got to make sure we're in shape, we're prepared and hydrated and ready to go," Slater said.
Cardenas said he worked on conditioning so much this year, even though he hated it every step of the way.
"The key thing I have to work on is staying mentally strong and conditioning. It's four matches a day, two singles and two doubles as long as you keep on winning," Cardenas said.
Cardenas and Scott said their pre-game preparation usually involves a lot of eating. Cardenas said in the evening he likes to spoil himself with a nice cheat meal.
"Me and a couple of the lads on the team, we tend to get out and get a big fatty meal before the match. So last night we got In-N-Out. That's been kind of a tradition," Scott said.
The Kingsmen were glad they could pull out a sweep on their final home match of the season.
Gennnette said the players are a bunch of positive and supportive young men and can't wait to compete in the Ojai tournament.
Wais Niazi
Staff Writer
Published April 22nd, 2015