Cal Lutheran Goes Green
On April 22, two plastic jellybean racers and a multi-gooseneck floor lamp blocked the right lane of the spine. Ahead, an orange peel, a milk jug and junk mail sat between a trash can and a recycle bin.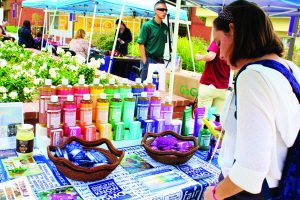 "This is an obstacle course," said sophomore Carlee Wood, member of the California Lutheran University Green Team. "The Environmental Obstacle Course."
Wood invited passersby to race for prizes like T-shirts, reusable straws, fair trade soap and reusable coffee mugs. Contestants had to screw and unscrew an energy-efficient lightbulb and properly dispose of the trash and recyclables before reaching the next brick planter.
The race was part of Green Week, a series of events to bring students' attention to the issue of environmental sustainability, sponsored by the Cal Lutheran Community Service Center.
Cal Lutheran senior Alastair Moody took the challenge.
"Well, it really started off with these funny-colored slug things. I think they're environmentally-friendly slugs," Moody said.
After winning the race, Moody said he's doing his part to benefit the earth.
"One way I'm making a difference? I try not to drive anywhere. I try to walk everywhere," Moody said. "It helps that I live on campus."
Junior Nicole Ahlering, Environment and Sustainability Intern with the Community Service Center, had a large hand in planning the week.
"Sustainability means, basically, living in a way so that our future generations have the same resources and access to things that we do," Ahlering said. "Ideally it means leaving it better than when we found it."
In addition to tabling in front of Starbucks, students were involved in several eco-minded events.
Tuesday, April 21 at 7 p.m., the Center for Equality and Justice hosted a screening of the documentary "Eyes on the Sky," in the Lundring Events Center.
In the film, critically-acclaimed movie producer Steve Nicolaides takes an in-depth look at the water crisis in the western United States, traveling to the sources of the region's water supply and challenging viewers to consider solutions like greywater systems.
The documentary is available to watch online in full.
Vendors and organizations tabled on the spine on April 23 for the sustainability fair. Several companies known for ethical labor and manufacturing practices were present, including soap and lotion maker Dr. Bronner's, tea company Guayakí, and bracelet company Pura Vida.
Melanie MacDowell, senior at California State Channel Islands, represented Food Forward, a volunteer-based organization in Los Angeles and Ventura County which gleans produce that would otherwise go to waste.
"Just last week we picked over 500 pounds of chard at a farm in Oxnard," MacDowell said. "It wasn't sellable because it reached a certain growing point, and markets won't take it."
According to its website, Food Forward gathers excess produce from public and private properties, even farmers markets, to distribute to local food charities.
MacDowell encouraged college students to donate two hours on a weekend, saying the experience of serving with Food Forward taught her much about the agricultural industry and herself.
"We get to go to farms and see what actually people aren't eating," MacDowell said. "Just through doing these projects I've realized how much I waste on an individual level."
The City of Thousand Oaks' Environmental Programs also appeared, providing information about recycling and proper hazardous waste disposal.
Ahlering said a university campus is an opportune place to speak about issues of sustainability.
"We're kind of next in line to, you know, be in government offices, be in policy-making positions, things like that," Ahlering said. "We can kind of catch people before they go out into the real world."
Jeff Baker
Staff Writer
Published April 29th, 2015