Faiths Bring People Together
Although California Lutheran University is a Lutheran school, on April, 23 at 6 p.m. outside the Samuelson Chapel, students and faculty gathered to discuss the importance of all faiths coming together. The event was called "The Importance of Faith" and had an attendance of about 130 people.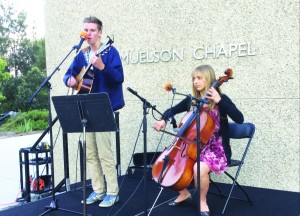 The event began with a short speech by Dr. Rahuldeep Gill about how he became very serious about his Sikh religion and expressing it while studying in college. The message he gave was about how accepting everyone at his college was of him and his faith.
Following Gill's speech, people in attendance were able to get dinner and dessert from multiple food trucks including The Grilled Cheese Truck and Sweet Arleens.
After receiving food, those in attendance were encouraged to sit at tables together and discuss questions of faith. Upon entering the event, guests who payed the $5 fee for food received a T-shirt that had a list of religious on the back that were meant to prompt the discussions at dinner.
One student in attendance was junior theology major Andrew Worthley.
"This is a great event," Worthley said. "It's an event that brings people of different faiths, religions and beliefs together over food and talk."
During dinner, guests were entertained by various student performers taking the stage and sharing their talents. While eating, many people did discuss religion and answered the prompt questions from the T-shirts, but many people discussed other topics including sports, school and work.
"My goal for this event was to raise awareness about how many diverse faiths we have on this campus, and a good way to get people to come was with food trucks," said freshman Tess Tait, the event planner for Campus Ministry.
Tait said she was very happy with the turnout at the event.
Another freshman working the event was Anna Liljas. She had multiple duties including working the ticket booth at the entrance as well as promoting and prompting the questions on the T-shirts during dinner.
"My favorite questions to ask is about what traditions people have before they eat a meal," Liljas said.
Liljas also said the event went very well.
"Honestly, this went even better than I expected," Liljas said.
Next year Campus Ministries plans on hosting two more similar events because of the great success this one had.
The event lasted until about 7:30 p.m., when people finished their meal and discussions and headed home.
Cody McElligott
Staff Writer
Published April 29th, 2015