Defying Gravity and the Odds
With a wide array of clubs available to join at California Lutheran University, you would not think the Hip Hop Organization club or the Physics Club would have much of an overlap.
However, these two clubs have one thing in common, they have the same president.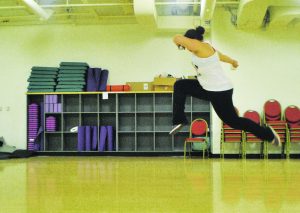 Fransheska Berrios is a senior majoring in physics with a minor in math and applied scientific computing. Her interest in the Physics Club is clear, but her passion for H2O is may be more surprising.
"If you ask my folks, I've been dancing since I could stand. I've always taken hard classes, and dance has served as my creative outlet. I can't draw worth a damn, and [hip-hop is] a way to exercise my body as much as I do my mind," Berrios said.
Berrios said when she is dancing she is not thinking about homework, papers or projects. It is just her and the music. Berrios has had a part in established dancing entities for about seven years, three in high school and four at Cal Lutheran.
"I'm not sure that many people know just how hard working Fransheska is. For example, she's one of five students receiving highest honors at graduation. She juggles everything so well: dance physics, family [and] friends. She's superwoman," said Sari Terrazas, a sophomore at Cal Lutheran who is a co-vice president for H20 along with Justina Posadas.
Joining the Physics Club was the outcome of Berrios becoming a physics major at the end of her first year.
"Going into my second year I made friends with other physics majors and before I knew it I was attending physics club meetings. Then I started getting involved. I remember designing the club T-shirt my sophomore year when I wasn't even an officer yet. Incidentally, I've designed it every year since… and the rest is history," Berrios said.
Members in both the H2O and the Physics Club believe Berrios is a great model for students who may have trouble balancing difficult school work and fun extracurriculars.
"I think that Fransheska is the perfect example of being able to do the things you love while in college. She's always loved physics and dance, and I think that it's great that she's found two little niches that suit her perfectly," Terrazas said.
"[Fransheska] works very hard in both [clubs]. She is an amazing person, and she can balance them very well. She takes care of music, meetings, competition, uniforms, as well as the choreography for H20 and does a ton of events in Physics Club," said sophomore Dominic Lunde, who is an officer of the Physics Club along with Berrios.
Berrios said she believes good things happen when you have a group of people who are passionate about what they are doing. She said she finds that in both clubs.
"These people aren't my friends. They're my brothers and sisters, people I know I'm going to still talk to and enjoy it 30 years from now," Berrios said. "Clubs are formed when a group of students come together for a cause they feel so strongly about that they're willing to go through the paperwork to give it a presence on campus. That is something all clubs on this campus have in common regardless of what they cater to."
Berrios is equally as passionate for each club and has no preference of one over the other. She said she simply loves them both.
"I have no favorite. That's like asking me if I have a favorite sibling or favorite parent. I don't. If I didn't love them both I'd only be president of one or even neither," Berrios said. "I work hard for these clubs because I love and appreciate what they do for their members and the campus as a whole. If I didn't believe that I wouldn't do what I do."
To see one of Berrios' passions in action, members of the Cal Lutheran community are encouraged to attend the "Make Your Move" Dance Showcase that is being put on by H2O on May 1 from 6 – 8 p.m. in the Gilbert Arena.
"The event is free for Cal Lu students, but we are encouraging school supply donations," Berrios said. "The showcase this year is benefiting School on Wheels, which is a non-profit that helps homeless students by providing supplies and tutoring."
Amber Rocha
Staff Writer
Published April 29th, 2015