From painting Snoop Dog and Master P, to working on theatrical set designs like Frankenstein and Hamlet, and being a published author, Dr. Michael Pearce, an associate professor at California Lutheran University, has had an art career that's been nothing but unpredictable.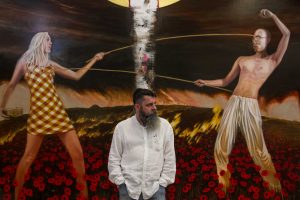 Born in England, Pearce was not the quintessential student, so his parents decided to send him to boarding school. There he discovered his love for art.
"I was a dreadful, dreadful student. The art room became my sort of refuge," Pearce said. "Art for me became a wonderful, beautiful place where I could live."
After he graduated high school, Pearce attended an art school in England to learn, what he thought, was going to make skillfully made drawings and paintings. Instead, he said they taught him how to pile up pieces of foam and shoes. The school told him drawings were bits of string, and old art wasn't cool.
"I was strongly criticized for wanting to draw representational art and draw pictures of things as they actually were," Pearce said. "I was told that it was all dead, and I became very depressed about it. I found myself feeling rather lost because there wasn't any room in that art world for me."
Pearce became turned off to institutional art and in 1990 he left England and began working on a Master's Degree in theatrical set design at the University of Southern California.
Pearce continued to paint on the side, but his career became set and lighting design.
"Theatre really kind of saved me creatively," Pearce said.
In 2001, Pearce was a Deacon at the Bethlehem Lutheran Church in Granada Hills. Inside the church he had a painting titled "Baptism of Christ" that hung right over the entrance to the main hall. A Cal Lutheran employee took notice of the painting and referred him to Jerry Slattum, the previous chair of the art department. Slattum liked Pearce's paintings and offered him a show in the Kwan Fong Gallery.
Shortly after his show in the gallery, Slattum called Pearce and asked if he'd consider teaching a printmaking class.
"I was in heaven. It was just wonderful to be back in art and especially in an institution which supported what I was doing. It was just great," Pearce said.
Pearce left Cal Lutheran to teach at Westmont College for three years and returned in 2005 where he began teaching full-time and was asked to be the curator for the Kwan Fong Gallery.
"I've loved running the Kwan Fong Gallery," Pearce said. "I've met some super interesting people and we've showed all kinds of art in there."
Pearce said one of the most memorable exhibits shown at the gallery was the AIDS Memorial Quilt, an enormous quilt that commemorates the lives to those who have died from the disease.
"It was very sad. For me it brought back a lot of memories of my brother-in-law when he died from AIDS," Pearce said. "I nursed him during the last week he was alive, so that one really sticks in my memory."
One of Pearce's favorite shows at the gallery have been the "Man Show," which Pearce said brought together some really fabulous painters including Jeremy Lipking.
Aside from teaching and curating the gallery, Pearce has been the chair of The Representational Art Conference that began in 2012. According to TRAC's website, "It is the academic conference for exploring representational arts place in the 21st century." TRAC is presented by Cal Lutheran's arts initiative. The next conference will be in November, and will feature Richard McDonald as a keynote speaker.
Professor Terry Spehar-Fahey has been teaching in the art department since 2006 and is a big supporter of the TRAC Conference.
"The enthusiasm these artists have for what we're doing and for Cal Lutheran sponsoring it. It's pretty unbelievable when you hear famous artists talk about how much they appreciate what you're doing," Spehar-Fahey said.
Spehar-Fahey said Pearce was instrumental in her position at Cal Lutheran.
"I admire his energy and his commitment to his ideas, and his persistence in the pursuit of excellence in his artwork and in his writing," Spehar-Fahey said. "He has done some amazing things while working here."
Pearce currently has an exhibit in Paso Robles called "In A New World," at the Studios on the Park Gallery, where his artwork is featured alongside two Cal Lutheran alumni students.
Harold Muliadi, one of the alumni's that's in the exhibit, majored in art and had four classes with Pearce.
"Dr. Pearce, repeatedly modeling the techniques and behavior of a painter at work, was a valuable experience for me, and granted me more confidence as I created my own paintings," Muliadi said. "Seeing my paintings up in the show alongside his was fulfilling."
Pearce recently published a book titled, "Art in the Age of Emergence," he is currently in the process of writing another book on the art of kitsch. He also has an art show in Camarillo lined up in October, which he plans on calling "The Veils," and another show at the Museum of Ventura County in 2016 that he plans on calling "Secret Paintings." Over the course of his career he has painted numerous portraits for artists and musicians.
"I've been very, very fortunate. I love doing this, I can't imagine doing anything else," Pearce said. "A lot of people have helped me and I'm really grateful for that because you can't do this stuff on your own. If you're full of yourself it's not going to work. You have to be thankful for the other people that help you along the way. And I think one of the most important things I've learned is to give back as much as you can."
One of the ways Pearce enjoys giving back is by teaching his students.
"They come in here and many of them haven't ever picked up a paint brush in their lives, and it's so cool to see that moment of discovery when they realize they can do it and they're good at it. It's just fantastic. I love it," Pearce said.
Daniela Abravaya
Staff Writer
Published April 29th, 2015