California Lutheran University communication and theatre art students were given an opportunity this past semester to produce a television show. The professors behind the project, Kenneth Gardner, theatre professor, and David Grannis, film and television professor, said the goal was to produce a work environment equivalent to a career in the field of television and film.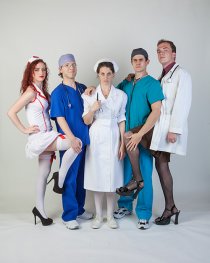 The show titled "Metro General" will hold free screenings for the public to view the completed project. Screenings are on-campus in the Preus-Brandt Forum. All four of the 30-minute episodes will play starting at 8 p.m. each night from April 30 – May 3.
Gardner described the show as a hospital-themed soap-opera spoof with two main plotlines: one first plotline is two families are against each other, where one family is good and the other family plots on world domination, the second plotline follows a hospital mercy killer.
The idea for the show began when Gardner was in grad school. He said he knew a few people who wrote a weekly stage show that resembled an improv environment. Around 10 years ago, Gardner and Grannis attempted to use the material to shoot a pilot for an acting for TV class.
Toward the beginning of the fall 2014 semester Gardner said he wanted to revisit the material on a larger scale, providing a useful experience for students.
"It worked great for our students because the material was perfect for college-age students, and I wanted to bring more TV and film experience to them," Gardner said.
Gardner and Grannis both said a vast majority of acting jobs, if you wish to get paid, are in film and television. Gardner said he wanted to create a medium for experience, and this material was perfect.
In October, Gardner got a group of five students together, from various majors, who had taken main stage production's class, to write the script. Gardner said the diverse group of writers were one of the best groups he's ever worked with.
According to Grannis the actual set production began in January and filming was completed in April. The short amount of time was quite the undertaking.
"When Ken initially came to me with the project, I thought, 'how on earth am I going to work that into my class.' Once I committed to it, we hit the ground running," Grannis said.
Grannis turned the independent project into a class project for his beginning television course. Instead of physically going to class, students were asked to meet on-location and shoot for however long was needed. Some nights went from 5 p.m. – 1 a.m.
Two of Grannis's students, Lauren Parker and Pierre-Oliver Valette said the experience felt like they were on an actual Hollywood set.
"We saw the set when it was under construction, and to see it completely finished was incredible. It looked like I was in Hollywood," Valette said.
Valette is an exchange student from France, and found it to be a new and exciting experience.
"I won't get this opportunity in France, so to experience it now is very exciting," Valette said.
Parker said she found it to be incredibly helpful, as she hopes to pursue a career in television and film.
"I had so much fun working the camera. It was tiring and I've never filmed like that before, but I feel I learned so much," Parker said.
Gardner said this is by far the largest project he has ever tackled at Cal Lutheran, and refers to it as "the mammoth."
"It involves over 100 students, four 30-minute episodes, long hours, two original songs and almost seven months, but was a learning experience," Gardner said.
One of the most important tasks was the creation of the sets. It was filmed in Cal Lutheran's Black Box Theatre, which was turned into a sound stage by Erik Diaz. Diaz has been working as a scenic and lighting designer for Cal Lutheran for two years and found the project to be a new experience.
"What was cool about this project was that the script was evolving, so it posed some interesting challenges as to how to conceptualize the different locations that we're going to, based on a script that has gone through several revisions," Diaz said.
The project is new to the university and a daunting task, but Gardner and Grannis said the experience was worth it, and hopes many attend the students' hard work on the dates of its screenings- April 30 – May 3 at 8 p.m.
Mary Callaway
Staff Writer
Published April 29th, 2015