Social Media: Hillary Clinton's Best Weapon
So far in the 2016 Presidential election, one candidate finds themselves in the interesting position of needing to stand out while also becoming just another person. In the completely desolate field of democratic nominee candidates, Hillary Clinton will actually need to put up the fight of her life. Her best weapon? Social media.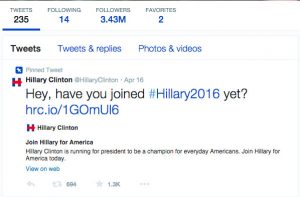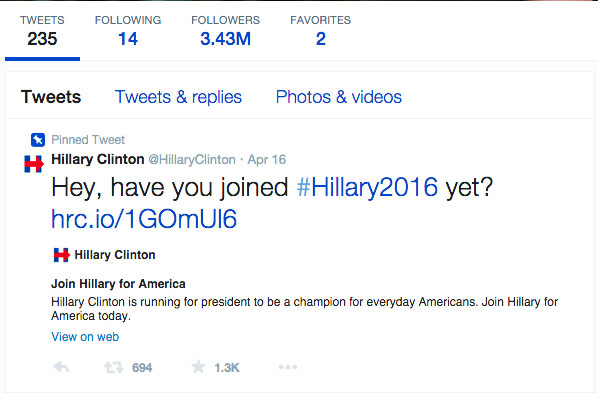 "I think she's trying to distinguish herself from the 2008 campaign, that she's a different person," said Dr. Ryan Medders, assistant professor in the communication department.
Clinton needs to lose the grandeur of her last name and become just another candidate but keep her lead in early polls. The best way to make people feel like you are working for their vote is by actually doing the work yourself. Rather than let the media announce her candidacy through coverage of a speech in front of an assembled crowd, simply putting out the announcement through cheap, ubiquitous and self-crafted social media sets a better tone.
Although she is the overwhelming favorite to win the Democratic Party nomination, according to the Quinnipiac poll, she has a 60 percent backing from potential voters in the democratic primary, she needs to come off as a dark horse and win people over. She is already using social media to her advantage. Unlike every current GOP candidate, Clinton announced her campaign via an online video.
"I think it's a kind of a response to what she learned from 2008 when she got out foxed by Obama. Instead of going high and narrow, she's going wide and low," said professor of political science, Dr. Herbert Gooch. "The social media works particularly well with the younger, more educated demographic who tend to be more democratic."
According to polls by the Roper Center, voters aged 18-29 have voted for the democratic nominee in the past three elections. However, only 45 percent of them show up to vote compared to 66 percent of their older counterparts who typically favor the Republican nominee.
"If we think about the audience being not necessarily those who are 100 percent politically engaged, I think this is a better format to reach more people that way," Medders said.
A recent study by businessinsider.com found that adults age 18-29 used social media more than adults age 30-44, who used it more than adults age 45-59. By announcing her candidacy on a platform that is targeted toward a younger demographic and can be easily watched, shared and liked; Clinton is appealing to a demographic that supports her but has not appeared at the polls.
"The young showed up in mass for Obama in 2008, the numbers went down and Obama almost blew it in 2012," Gooch said.
This is where the content of her social media campaign comes in to play. By simply pouring her ideas and opinions out on to Twitter, Clinton would become a target for criticism from those within her own party as well as the pool of GOP candidates. Clinton has to use social media to appeal to all voters as simply a hard-working citizen.
"There's little evidence that says she can simply bequeath those numbers, she's got to earn them herself, and that's why social media is perfect for millennials, because that's the group whose voting is often so spotty,"  Gooch said.
Clinton appears in her own campaign video nearly three-quarters of the way through after a montage of citizens with diverse backgrounds talking about their future. This type of video is exactly what Clinton needs to win votes. Appeal to Americans of all backgrounds, tap into the large yet idle pool of young voters, and humanize herself to become the underdog who is fighting for your vote. Social media is the tool Clinton needs to fight the aura of inevitability that is shrouding her campaign.
Kevin Repich
Staff Writer
Published April 29th, 2015