Kingsmen Tennis Takes on Ojai Tournament
April 23-26, the California Lutheran University men's tennis team competed at the Ojai Tournament. This tournament did not count toward rankings by the governing organization, because it was an unsanctioned tournament.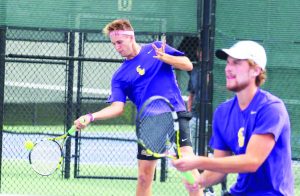 In the Men's Division III West Singles, the Kingsmen were able to pull out a couple of wins. In  round 64, both sophomore Fergus Scott and senior Moises Cardenas came out victorious in their matches. Scott won both sets 6-3, 6-4 and Cardenas won in straight sets, 6-1, 6-3.
"It felt good representing my team in a positive way where I came out strong in singles and got the first round victory," Cardenas said.
The Kingsmen weren't finished after round 64. They both managed to make it all the way to the sweet sixteen although Scott fell short to No. 3 seed Skyler Butts, losing 7-6(5); 6-1 in his sets. On the other hand Cardenas kept hope alive and pushed through the sweet sixteen round where he won 6-2; 5-7; 6-1 in three sets and moved on to the semi-finals.
In the semi-finals, Cardenas' run came to an end when he lost to No. 1 seed Warren Wood in two sets 6-1; 7-5. Despite losing Cardenas said he was still proud of himself.
"I was very thankful that I had made it to the semi-finals round, and also thankful at the same time because I know I worked hard to get to this point," Cardenas said.
In the Men's Division III West Doubles, the Kingsmen didn't do as well as they did in the singles match-up. In doubles, only one team was victorious and that was in round 32 where Scott and his partner Oliver Thornton won 8-3. They were later defeated in the next round 8-6.
Senior Jesse Knight and Cardenas, who were seeded No. 4, also competed in the doubles match but were knocked out in the sweet sixteen after having a first round bye, losing 8-4.
"During the tournament we were very aggressive and always tried to keep our opponents guessing while we were at the net. We happened to play a team composed of two extremely strong singles players, which is normally good for us, but they returned amazingly well and were able to keep us on our toes in a point of the match when we were expected to be in charge," Knight said. "Because of their returns we were unable to win big points and come out on top despite being the No.4 seed."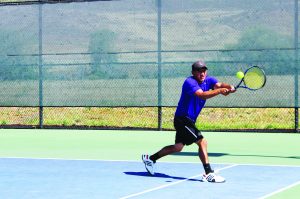 Knight said coming into this match they wanted to play one of the two players heavily and keep the ball away from the other so they could restrict them and take control of the net. Coincidently this also happened to be one of the best matches their opponents had played, according to Knight.
"Our opponents [were] playing amazing. After the match their coach told us how he had never seen the two of them play as well as they did that day. Unfortunately that match was against us," Knight said.
This upcoming week, the Kingsmen are gearing up and practicing hard as they get the chance to compete in their final matches of the season at the Southern California Intercollegiate Athletic Conference Tournament in Pasadena, California May 1-2, where they will look to bring home a SCIAC Championship.
Randall Shumpert
Staff Writer
Published April 29th, 2015