Honor Cords will be Allowed at Graduation
Frustration has been flooding campus recently in regard to students' rights to wear the honor cords they have earned over their years at California Lutheran University awarded by various honors societies.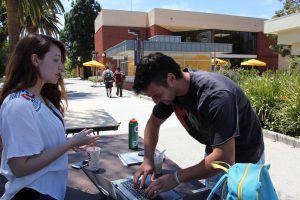 The commencement committee created a policy three years ago to ban honor cords from graduation, but the instruction had never been strictly enforced until now.
The only cords that are currently allowed at commencement are the Latin cords given out by the university for a student's cumulative GPA during their time at Cal Lutheran.
David Nelson, Assistant Professor of history and faculty advisor of the history honor society Phi Alpha Theta on campus questioned the commencement committee on their reasoning but was never given a straight answer.
Nelson is working with students and faculty to eliminate this rule from the commencement ceremonies so that students can proudly walk across the stage to receive their diploma showing off all of their accomplishments around their necks.
"[Not being able to wear honor cords] limits their ability to show their accomplishments in their four years at CLU. I am still struggling to understand the reasoning behind it. I have not gotten a clear explanation yet," Nelson said.
Students on campus who are members of honor societies are worried that they are not going to be able to show off their hard work at their commencement. This issue is sparking concern with non-seniors as well.
Ryan Zapata, a biochemistry major and a junior at Cal Lutheran said he is already working to earn the respect of wearing some honor cords of his own at commencement in 2016. Zapata said he is a member of Beta Beta Beta, the biological honor society on campus.
With the hard work he has put into his education already, he said there is clear reason for him to be upset, as well as other honor society members.
"The commencement committee's decision to ban the cords is a mistake and is unfair. This devalues the commitment required to earn an honor cord. The decision should have been discussed with faculty members that know the students," Zapata said.
Nelson also said he is encouraging students to speak with faculty members in order to help negotiate being able to wear their achievements at commencement.
Junior Katie Willis is taking matters into the hands of students so that their voices can be heard louder.
Willis is a member of the history honors society Phi Alpha Theta as well as the English honors society Sigma Tau Delta.
She said she thinks that not being able to wear her cords next year will not only affect her but family and friends as well.
"I feel that this affects everyone, not just the students. It also affects the families because the families want to see their child on the one day that they get to show off all the cool things that they did at their own graduation," Willis said.
This is why Willis started a petition on Change.org for students, family and friends to sign to take this rule at commencement away.
In seven days the online petition had gained 435 signatures. Willis attributes the petitions success mostly to social media and students who believe it is their right to proudly wear their honor cords at commencement.
The petition Willis started has already gained the attention of the commencement committee. Now calling it a communication issue, the committee has agreed to let graduating seniors of 2015 wear their honor cords at this year's commencement ceremony but not in the years to come, according to the commencement committee.
Though this solves the problem for now, Willis is concerned for what her future holds. She said she believes students have to continue with this battle in order to allow future graduating classes the right to wear their honor cords as well.
To help in this fight to show off your academic achievements at commencement, you can sign the petition on Change.org and speak with faculty advisers about the issue. After all, Dr. Seuss gave us some advice that should be considered now that adulthood is here.
"Why fit in when you were born to stand out?"
Heather Tomaszewski
Staff Writer
ublished May 6th, 2015