Celebration of Research
This past week California Lutheran University's Festival of Scholars took place, showcasing research and projects from both undergraduate and graduate students.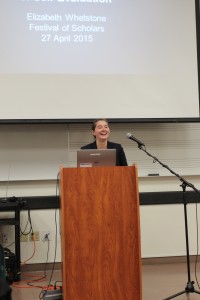 From April 27 – May 1, students led presentations, panels, teaching demonstrations, multimedia displays and musical recitals which showed the dedication they have had for their works and studies.
"It's a celebration of research. It recognizes the students for their achievements and for their hard work," said Associate Provost of Experiential Learning, Research and Faculty Development Grady Hanrahan, who oversees the Festival of Scholars. "We acknowledge the students and their faculty mentors. It's a way to show appreciation for the work they do."
Extensive work is put into all of the presentations done throughout the week, resulting in projects students take pride in and are eager to showcase. According to Hanrahan, more than 300 student submissions were showcased at  the Festival of Scholars.
"I see that the students are very proud of their accomplishments, and they should be," Hanrahan said. "They are eager to participate and often talk about it months after the event."
The scholarly work presented throughout the week included research done in classes for senior capstone projects and independent research, all of which resulted in projects and presentations.
Students work with their department's faculty members in compiling their research and works, utilizing the one-on-one and personal education that is available at Cal Lutheran.
"Festival of Scholars highlights various experiential learning that's happening on campus," Hanrahan said. "Learning by doing has been another effective teaching tool that we use as faculty members."
This hands-on personal teaching style has helped facilitate the research projects being done by Cal Lutheran students.
"I think the Festival of Scholars helps showcase the quality education we can get at CLU," said senior Keegan Guy who presented his film project during the Advanced Cinema Production session on April 27.
"It gives students recognition for work they have put in on various projects around campus. It was gratifying to know that students and faculty took time out of their day to hear about my experiences and ask questions regarding my film."
Senior criminal justice major Tianna Langley also held the festival in high regard after participating on the Experiential Learning in criminal justice panel.
"It was nice because it really feels like my opinion mattered. I wasn't just in a classroom being another face to the teacher," Langley said. "Instead my voice was heard, and hopefully what I said and my experiences can help shape the future of the department."
With this years festival being the ninth Festival of Scholars, both students and administration have been pleased with its success and are hopeful in its continued growth and expansion.
"I'd like to see more students in the events, including more sessions and more students," Hanrahan said. "There are limitations, but we hope to include every student at CLU in the Festival of Scholars."
Both Guy and Langley reiterated Hanrahan's position on the future of the festival.
"I think it would do the school and students a favor if more people knew about the event," Guy said. "It would certainly get more students involved and maybe even encourage students to complete a project that they would have not otherwise."
Increasing awareness of the event will be a focus for next year's festival, building upon the success and experience of this year.
"We should probably advertise the festival a little more to outside students," Langley said. "It gives them a showcase of our departments and what we're about, what we're interested in, the experiences we've had and some of the experiences they'll gain in coming here."
Joe Dalecio
Staff Writer
Published May 6th, 2015