Blake Lewis: Leading by Example
It is not easy to lead a team, let alone became a top player, however Blake Lewis has achieved both and has helped lead the Regals softball team to their first ever postseason conference tournament.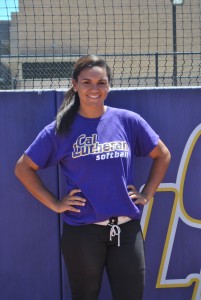 In her junior year at California Lutheran University, Lewis is pursuing a major in biology.  She has expressed interest in the field of sports medicine, hoping to use what she has learned at Cal Lutheran.
In addition to her education, Lewis holds something that is valuable in a different but equally important sense. The ability to lead.
Like Washington crossing the Delaware, Lewis leads her team by being one of the very best hitters Cal Lutheran has seen, cracking the Cal Lutheran single-season top 10 in both doubles and RBIs, with 13 and 40, respectively. She also leads the Regals in just about every offensive category as well, hitting .389 with three homeruns.
"She just gets it, especially this year. She has really grown into being a leader," head coach Debby Day said. "To see how much she has grown as a hitter, as a leader, as a ball player in general has been really rewarding as a coach."
Day has been a part of Cal Lutheran's coaching staff for 13 years. However Day has known Lewis since she was 16 years old. Never in her wildest dreams did Day think Lewis would want to play for her at Cal Lutheran.
Playing for 14 years and counting, Lewis has been accustomed to the life of a leader since she was about 10 when she worked with her father to become a better player.
Being one of the strongest hitters on the team comes with responsibilities and asks a person to go far beyond the call of duty.
"I feel like I'm put in a lot of situations where my team expects me to produce…I know my team has my back no matter what," Lewis said.
Much of Lewis' responsibilities at bat require a stern mental focus, to be able to shut out anything in the mind that could distract, watching the ball come in and landing a hit.
"I'd say I have my good days and my bad days. But when I'm having a good day, I'd say it's kinda contagious. It travels to other girls on the team," Lewis said.
With success having an infectious effect among our Regals, Lewis has shown to be an invaluable part of the Cal Lutheran roster.
This hitting ability has not gone unnoticed with Lewis' biggest achievement this season being in the top five for RBIs and doubles in conference.
"It's been a goal of mine to lead not only on this team but also in conference and I've been able to stay in the top five pretty much the whole season," Lewis said.
Junior catcher Taylor Beacham has been a best friend of Lewis since they met on a recruiting trip. Since then, they have lived and played together to build an extremely solid relationship.
Playing with a best friend definitely can have its ups and downs, however according to Beacham they have a different dynamic.
"She is a very strong a vocal leader and we try to keep each other in tune," Beacham said.
Being a catcher requires a sense of leadership in itself where Lewis is a leader because that's who she is according to Beacham.
With the type of position Lewis holds within the team now, it is logical to think  Lewis might one day be coaching herself.
"After I graduate, I really want to look into grad assisting somewhere and being a coach because I just love the game," Lewis said.
This love of the game does not stop at just playing it. Lewis said she holds a keen interest in sports medicine and hopes to stay within the confines of softball.
Lewis will look to continue her success on the field into next season and lead the Regals to a second consecutive postseason tournament berth.
Connor McKinney
Staff Writer
Published May 6th, 2015