Jaque of all trades
What do you call a former Miss California, Phantom of the Opera star and roller blade enthusiast? A California Lutheran University alumna of course.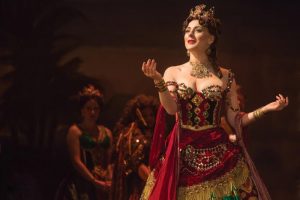 Jacquelynne Fontaine has been one of Cal Lutheran's most notable alumna since she graduated from the university in 2004.
Currently Fontaine is cast as Carlotta Giudicelli in the North American tour of The Phantom of the Opera, but there was so much to Fontaine before she graced the stage as Ms. Giudicelli.
Growing up Fontaine went to Oxnard High School where she aspired to be a classical pianist, but later decided to focus her education on something a little more practical.
"It seemed like a pipe dream to become an actress or singer, so I focused on being a lawyer during school," Fontaine said in an email interview.
Fontaine is the daughter of Victor and Donna Fontaine and has an older sister, Vanessa. When Fontaine would come home from school, her evenings were filled with piano, tap class, roller blading, homework and occasionally singing at the piano with her mother.
When the decision came to find the perfect college, Fontaine knew she had Cal Lutheran in her bood because her mother received her teaching credential at Cal Lutheran.
In her time at Cal Lutheran, Fontaine was very active in the theatre and music departments.
"I figured that college was the time to try new things so why not really see what theater was like, it might be a fun past time," Fontaine said.
She was surprised when she was cast as a lead for Antigone in Anouilhs' "Antigone."
Looking back on her first Cal Lutheran role Fontaine said it was nerve racking, but she loved the challenge of it.
"I had been studying and working with lawyers, and Antigone is very headstrong," Fontaine said. But if there's one role I could retackle knowing what I know now, it'd be that."
Professor Michael J. Arndt of the Theatre Arts Department and Artistic Director of the Kingsmen Shakespeare Company could tell Fontaine was going to be a star early on in her career in the theatre.
"She had a sense of herself as a 17 year old freshman and she was very humble, but when she was on stage there was an extra spark and energy," Arndt said.
Fontaine said that her final thesis at Cal Lutheran was her role as Cunegonde in "Candide." Playing this character pulled all of her training from the past four years of college into the final role.
Fontaine says if she could go back and give her younger self some advice before performances she would say, "Don't stress, things will always turn out ok. As long as your heart is in the right place and you're doing your best, whatever is meant to be, will be."
Looking at Fontaine's success after graduation, Arndt only has the best to say about her future.
"I really think that Jacque is going to go much farther than she is already, and she's already very successful, she has that unique thing that you look for in performers. She's very talented musically, she's very talented as an actress, she's very good looking and everybody likes her. And that combination is unbeatable."
At the age of 23, Fontaine was named Miss California in 2006.
"The pageant world grounds you, teaches presence, articulation and gives you a good thick skin. All very helpful in the theater world," Fontaine said.
Fontaine used her Miss California status to visit veteran's hospitals and local pageants, and to bring awareness to diabetes.
All of this preparation had an impact on her success at the Phantom of the Opera. Ed Staudenmayer who plays Andre in the show explains how fortunate the production is to have Fontaine in a statement he shared with the Ventura County Star.
"She makes us legit. She is the opera. Her voice is absolutely glorious and seemingly effortless, her performance is so authentic and realistic, yet also finds the appropriate dose of comedy, and she is drop dead gorgeous."
Fontiane's favorite part of being a part of the production is being a part of what she calls the "phamily". Since the show has been around for 30 years she feels a strong connection with the community of actors, the history and the audience that has loved it .
With all of her success, Fontaine still finds the time to contribute to Cal Lutheran. She was the keynote speaker at last springs honor's convocation. She loves to give back to the school that she says gave her so much.
"Cal Lutheran prepared me not only professionally, but also spiritually for this career. Its faith centered education, its inclusion and openness, and its warmth are things that you will carry on no matter what path you take; things that make you a better person and community member," s  Fontaine said.
After conquering the world, Fontaine would even like to come back to campus to teach some day. Until then Fontaine would like to leave Cal Lutheran students with one piece of advice.
"Be honest with yourself. Be honest with where your heart lies, where your true passions are."
Heather Tomaszewski
Staff Writer
Published September 16th, 2015