CLU helps at Special Olympics '15
California Lutheran University can add a new memorable chapter to its history because it was given the opportunity to host the Special Olympic World Game athletes from July 21-24 while they prepared for the competition on July 25.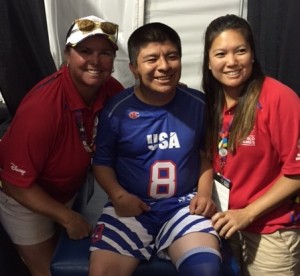 As a host site, Cal Lutheran welcomed a delegation of 100 people including athletes, coaches and administrators who were from four different countries: Mongolia, San Marino, St. Vincent and the Grenadines and Tajikistan, according to CLUsports.com.
Sports Information Director for Cal Lutheran's athletic department, Tracy Olson said, "It was interesting because obviously the Special Olympics is about a disability it's a learning disability, so now you factor in the communication curve because nobody spoke English. It was cool to see how universal it actually was, and we were lucky enough to have those four countries on Cal Lutheran's campus and in Thousand Oaks."
Olson volunteered during the hosting event and counted this as a once in a lifetime experience.
"We went over to the dorms one day and we played bocce ball with them, which is one of the sports in the Special Olympic World Games. It was kind of cool to be able to interact with them," Olson said.
Head women's basketball coach at Cal Lutheran Lindsay Goldblatt also volunteered during this host town experience and engaged with the athletes whenever she could.
"I think it was a great opportunity for a lot of us to get involved in a great cause.  The university as a whole did a great job organizing the event," Goldblatt said. "We're having a great time. It didn't feel like something we had to do; it was more something we wanted to do and be a part of."
With some help from the translators, the language barrier eventually became less of an obstacle as Olson and Goldblatt spent more and more time with the athletes.
"But even still I couldn't really ask 'what events do you do?' or 'what's your favorite part of your sport?'  Or there was a girl from San Marino and we did a group picture and right out of the ivory she just busted out in a split on the floor! Alright, so she's a gymnast," Olson said. "You were able to piece it together."
The interactions with these talented athletes didn't just begin and end at Cal Lutheran's campus and in Thousand Oaks. Kecia Davis, head athletic trainer in Cal Lutheran's athletic department, volunteered to be an athletic trainer in the medical hub at the seven on seven soccer event at Balboa Park in San Fernando Valley from July 25-31.
"Going on the field and watching them play, it was really cool because they were competitive," Davis said. "They bumped and hit and wanted to win. Yet, if someone fell down, they all were there to help pick him up. Even with the language barrier, there was that camaraderie, that sportsmanship."
Davis applauded the determination and the level of sportsmanship the athletes expressed either during their recreation time or during their events. She recalled a moment when the Norwegian soccer team celebrated being first place with their joy and excited energy, which truly made it an Olympic experience.
The volunteers from the Cal Lutheran Athletic Department, Olson, Goldblatt and Davis all agreed the language barrier never became an issue because it was with people who also shared the passion and drive for sports.
"Sports really is a universal language and that's how I see the Olympics as a whole; it just brings the whole world together," Olson said. "Everybody is doing the same thing. It doesn't matter your race, your religion, your sex, your background; the sport is the same."
Kristen Cueva
Staff Writer
Published September 16th, 2015