Kingsmen begin season with a bang
The Kingsmen football team opened its season against Pacific Lutheran University on Sept. 10 at William Rolland Stadium. This was the first game for both squads as they began their respective non-conference schedules. The 2015 season began with a back-and-forth game in which California Lutheran University came out victorious, winning 30-26.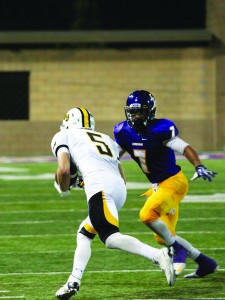 The Kingsmen got off to a very quick start on their first play from scrimmage. Senior quarterback Michael Butler targeted senior wide receiver Trever Wood for a 75-yard touchdown pass and Cal Lutheran took an early 7-0 lead.
However, this would be one of the few successes for the Kingsmen in the first half, as the Lutes intercepted a pass and returned it for a touchdown on their next defensive possession.
Pacific Lutheran took the lead early in the second quarter after a drive filled with receptions from junior wide receiver Ben Welch that was capped by a one-yard touchdown run by junior running back Darin Hardgrove.
Another blow to the Kingsmen occurred when Butler went down early in the second quarter with a knee injury.
Sophomore Adam Friederichsen, a transfer from the University of Arizona replaced the injured Butler. He struggled during his debut going 2-11 passing in the first half.
Head coach Ben McEnroe said the injury did not change the Kingsmen's approach on offense.
"Our game plan didn't really change. We wanted to come out and run the ball," McEnroe said. "We wanted to do what we worked on in practice."
A tipped pass caught by sophomore wide receiver Beau Lockmer gave the Lutes a 19-7 advantage.
Cal Lutheran fought their way into field goal range and Chris Taylor capitalized on a 37-yard kick to make it 19-10.  A blown coverage by the Kingsmen allowed a 45-yard pass from junior quarterback Jon Schaub to Hardgrove to give the Lutes a 26-10 lead at the half.
Cal Lutheran's offense started to come back to life in the second half. CJ Washington entered at running back and had multiple long rushes to lead the Kingsmen ground attack.
"We started attacking the edge and our offensive line just kicked it in. I was just trying to get to the perimeter," Washington said.
However the first drive of the second half ended when Friederichsen was sacked and fumbled the ball. It was recovered by the Lutes but they were unable to capitalize on the Kingsmen mistake giving possession right back to them on an interception by junior defensive back Josh Bartley.
Friederichsen started to settle in when he extended a fourth down play by scrambling and finding an open Wood to give the Kingsmen a first down. Isaac Seymour capped off the drive with a 1-yard touchdown run to cut the lead to 26-17.
Cal Lutheran's defensive responded by getting a quick stop on a crucial third down play. The defense adjusted very well and held the Lutes scoreless in the second half. The Kingsmen got another stop early in the fourth quarter and benefitted from a 14-yard punt by the Lutes. Washington continued his successful night with a few long runs and a one-yard touchdown and cutting the lead to 26-23.
Pacific Lutheran continued to struggle as their last drive ended with a snap over the quarterback's head forcing the Lutes to punt.
The finishing blow came on a 39-yard touchdown pass from Friederichsen to Wood with 3:03 left in the game to give the Kingsmen the lead, 30-26.
"I ran a comeback one play and they bit on it so I told coach we got to run a 'go.' So I broke down and saw him bite, then I just took off for the end zone," Wood said.
Pacific Lutheran threatened on their final drive with another reception from Welch, who would prove to have a very impressive performance for the Lutes. However the Kingsmen forced a turnover on downs after Bartley broke up a Pacific Lutheran pass. Cal Lutheran finally took a knee to end the game.
Washington led the Kingsmen in rushing with 122 yards rushing with one touchdown. Wood had three receptions for 136 yards and two touchdowns to lead the passing attack.
Cal Lutheran will look to continue their success on Sept. 19 when they will take on Willamette on the road at 12:30 p.m.
Jeff Rebello
Staff Writer
Published September 16th, 2015