Cal Lu Fornia dreaming
The California Lutheran University women's volleyball team went 4-0 in the Cal Lu Fornia Invitational, which was held at Gilbert Sports and Fitness Center on Sept. 11-12. The Regals swept  the first three matches and then finished the tournament with a 3-1 win in the last match.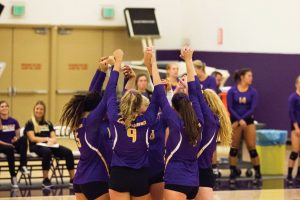 The Regals took on Providence Christian College to open the weekend and swept the Sea Beggers 25-7, 25-11 and 25-9. This is the first year PCC has played competitively with a women's volleyball program but the Regals showed no mercy.
Senior right side hitter Pua Mo'okini-Oliveira and sophomore outside hitter Hope Stewart had stand out performances for the Regals. The duo hit above a .500 kill percentage with seven and a half points for Mo'okini-Oliveira and eight for Stewart.
Mo'okini-Oliveira had six kills with one ace. While Stewart had six kills, one ace and five digs. Freshman outside hitter Amanda Roberts stepped up to the occasion and came out strong in her first home appearance. She had 11 kills and 14 points outscoring everyone on the day along with three service aces and four digs.
"It feels absolutely awesome I wasn't expecting this. Our starting outside hitter, Allie Eason, she's our captain; she had an unfortunate fall and hurt her ankle," Roberts said. "I am just trying to step in for her right now and do pretty much her job the best that I can on the court so there is not a hole in our team."
Roberts said she hopes to continue to work hard and play well for the Regals as they move on through the tournament.
In match two, Cal Lutheran took on UC Santa Cruz. The Regals made quick work out of the Banana Slugs, sweeping them 25-16, 25-13, and 25-18. Roberts and junior outside hitter Michelle Lawrence both had a double-double and hit above a .400 kill percentage. Roberts also had 10 kills, two aces and five digs while Lawrence held 14 kills and nine digs herself. Junior libero Nicki Tetherow added 10 digs in the victory.
"I thought we played great, especially missing our two captains in our first game today and being able to win," Lawrence said. "Missing one of our captains and starters in the second and still being able to beat a good team is awesome."
In the third game Cal Lutheran continued to push past adversities. The Regals went up against Life Pacific University and went 3-0, beating the Warriors 25-9, 25-22, 25-11. Roberts and Mo'okini-Oliveira continued to play well and both scored 11.5 points. Roberts also had nine kills, two service aces, and six digs all over 21 total attempts. Mo'okini-Oliveira had eight kills, three aces, and seven digs with 18 total attempts. Sophomore libero Dani Gonzalez came out strong and had 14 digs at libero. Stewart contributed by adding 12 points with 12 kills to the score.
Following the sweep against LPU the Regals got off to a rough start against Willamette University. The Regals trailed the entire first set and dropped their only set of the weekend 29-27.
Cal Lutheran was able to rebound and went on to win the next three sets and the match by scores of 29-27, 25-16 and 25-22. Junior middle blocker Dianna Rohrer, Roberts and Lawrence each had a double-double. Rohrer accumulated 13 kills with 13 points and three blocks over 30 attempts. Roberts had 10 kills, eight digs and 10.5 points over 33 total attempts. Lawrence had a huge game, despite having a nagging groin injury. She totaled 32 points, 30 kills and eight digs over 57 attempts.
Head coach, Kellee Roesel, was very pleased with the outcome of the tournament.
"I was really proud of my girls.It is really easy to play down to the level of some weaker teams and I thought we did a really good job," Roesel said. "I was able to use my whole bench and all of the kids that came in contributed really well."
The Regals will open conference play on Sept. 15 at 7:30 p.m. against La Verne.
Courtney Sooy
Staff Writer
Published September 16th, 2015