Jen Welter made history this last summer when she was hired by the Arizona Cardinals as an assistant coach and preseason intern, making her the first woman to be hired in a coaching position in the NFL.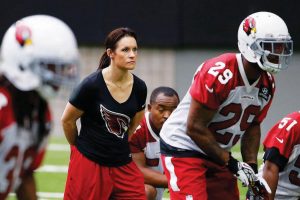 Prior to her time with the Cardinals, Welter had experience playing football in the Women's Football Alliance as well as playing rugby in college, according to NFL.com
As a female being hired for a position predominantly held by men, Welter is an example of someone who was hired for her experience and expertise rather than her gender.
Debby Day, assistant athletic director for California Lutheran University and head softball coach said that with Welter's hiring hopefully there will begin to be more cases like hers where a female is chosen for a men's job because she is the best for the position.
"All I want in an official, whether I'm watching the NFL or I'm coaching out on the field, is someone who's professional, knows their job, knows what their supposed to be doing  and does a good job at it. And I think our culture is getting to that point," Day said.
With the addition of Welter to the coaching staff, the Cardinals had a major shift in their coaching dynamics.
Ben McEnroe, head football coach at Cal Lutheran said that no matter what gender someone is or what position they hold everyone is held to the same standards of job performance in professional sports.
"Professionalism is very important in coaching, especially in the NFL, so everyone on that coaching staff is held to a high standard," McEnroe said in an email interview.  "Coach Welter is no different, there are expectations and standards for work, and she met those standards and was a valuable member of their staff during the time she was there.  I doubt there were many issues with the staff dynamic, they're pros." 
McEnroe doesn't believe in the idea that any person, male or female, has a set "place" they should be expected to stick with because of gender. He says that if a person is better at the job or position, like Welter was, they deserve to be given what's rightfully theirs.
"I'm all about the best people receiving the opportunity, on or off the field, regardless of gender or anything else," McEnroe said.
Cardinals head coach Bruce Arians, who has stated that he would hire based on what a person could offer his players, hired Welter.
"The minute they can prove they can make a player better, they'll be hired," Arians said in an interview with NFL.com. 
Welter's opportunity is a step in the direction of proving that for professional sports, it's all about who can make players the best they can be and who can get the job done the most successfully.
Lindsay Goldblatt, women's basketball head coach at Cal Lutheran believes that Welter will be the catalyst that opens doors for women to take on professional coaching staff positions, whether or not they are for men's teams.
"I think it's a huge step forward for women in a male dominant profession. And I think that this is just going to open the door to the idea of hiring a female on a mostly male dominate staff, or in this case a professional men's team. I think it really just opens the door to allow females a chance to coach any sport at any level for any gender," Goldblatt said.
Welter is an example that shows that with experience and knowledge of a sport it is possible for women to be rewarded jobs previously held strictly by men.
McEnroe said that combined with her past experience playing the game, he believes that Welter fit into the coaching staff and locker room well, opening doors for herself and proving a females worth in a men's game.
"As far as respect, that is earned," McEnroe said. "From what I've seen and read she earned the respect of her players and fellow coaches."
Hailey Klemenok
Staff Writer
Published September 16th, 2015