Garrett Baker: Leading the pack through injury
Men's senior cross country runner, Garrett Baker has managed to lead his team even in the midst of a hindering leg injury. Baker has been a key runner for California Lutheran University over the last two years and is hoping to end his collegiate running career as an All-Southern California Intercollegiate Athletic Conference competitor once his lingering calf injury heals.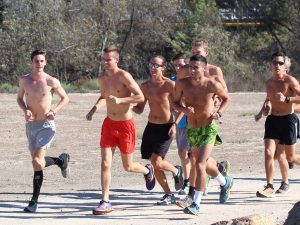 Graduating from Ventura College in 2013, Baker transferred his running success over to Cal Lutheran, breaking school records and qualifying for the SCIAC Championships in cross-country and track and field for two consecutive years.
Trying to get through the discomfort and continuing to push his limits, the pain eventually became unbearable. His coach, Brett Halvaks, was not surprised that Baker ran on an injured leg for some time.
"He is a hard worker and a grinder. He puts in a lot of extra work and is always asking how he can improve," Halvaks said.
Serving as a team captain for the Kingsmen last year, Baker still plays a key leadership role on the team as an unofficial captain this year due to his graduation in December.
"I felt like it was better for someone else to be captain for the full year rather than me being captain for a half of a year and then someone else would have to take over," Baker said.
Teammate and close friend David Avila, one of the Kingsmen's current captains, has learned a lot from Baker and still considers him a co-captain.
"He knows what he's talking about and he is really driven. He tries really hard, probably too hard sometimes. When we see Garrett [Baker] out there trying that hard we just want to get out there and do the same," Avila said.
"Sometimes he was too hard on himself as a captain and he wanted to go the extra mile. Sometimes I would have to pull him back a little so that he would focus on his own running and not worry about the team so much," Halvaks said.
Baker plans on enlisting in the Marines in February of 2016 after he graduates in December.
"I come from a big military family so it's something I've wanted to do for a long time.  Since I was a little kid that's the only thing I've been sure about," Baker said.
Baker's work ethic, attention for others and determination have labeled him as an old soul.
"I'm just the old guy on the team. They call me grandpa," Baker said.
Despite all of the accolades he has piled up at Cal Lutheran, Baker remains humble which has boosted team chemistry.
"We all get along and are always together outside of running. My teammates are great…David [Avila] really deserves the spotlight," Baker said.Trying to dish the spotlight off to one of his teammates, Baker has displayed and set an example for what it means to be a Cal Lutheran athlete.
For now Baker is focused on getting healthy and finishing strong for himself and his Cal Lutheran family. It may take some time before he can start running again but his role as a teammate and leader certainly will not end.
The Kingsmen will be competing at the SCIAC Multi-Duals in La Mirada Park on  Oct. 17. Teammates, coaches and friends are all hopeful that Baker will be able to compete in this upcoming meet.
Katy Lindor
Staff Writer
Published September 23rd, 2015