In America, we wake up each day with access to running water, the use of electricity and a plentiful supply of food.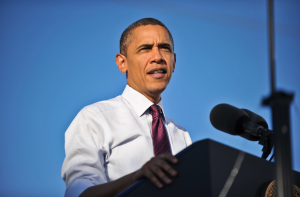 Though poverty exists, and there are always people in need, we can safely live our lives knowing there are resources to aid us.
According to fivethirtyeight. com, an estimated 11.6 million Syrian refugees are seeking asylum due to the Syrian civil war, with "7.6 million Syrians internally displaced, 4 million fleeing to neighboring countries."
These numbers are greater than the entire combined population of New York City, with an estimated population of 8,406,000 and the population of Chicago, with an estimated population of 2,720,000, according to nationsonline.org.
Thankfully, Americans under the Obama Administration announced that we will be accepting 10,000 of the millions of Syrian refugees during the 2016 fiscal year, beginning Oct. 1.
There are Lutheran Social Service organizations petitioning for the Obama Administration to accept 100,000 rather than the anticipated 10,000 because of the enormity of the Syrian Refugee Crisis.
While these numbers seem staggering, receiving refugees is no stranger to the United States.
In the 1980s, the U.S. received and resettled thousands of Somali refugees, and there is now a concentration of 30,000 in Minneapolis. As recorded by the National Review, "between 1983 and 2004, the United States resettled just over 55,000 Somali refugees, 13,000 of them in 2004 alone."
With such large numbers of refugees seeking a safe haven in the U.S., challenges are bound to arise.
Professor of Political Science at California Lutheran University Haco Hoang, who has a Ph.D in political science is in fact a political refugee herself. Hoang and her nuclear family fled Vietnam in 1975, leaving behind aunts, uncles and the security of maintaining her cultural heritage.
Hoang studied international relations and finds interest in researching civic engagement and environmental justice.
"The extended Vietnamese community in Southern California was a way for my parents to help me retain my culture, language and traditions," Hoang said. According to Hoang, there are difficulties of being a refugee, but benefits of having large refugee communities.
"Refugees often gravitate towards ethnic enclaves so they are close to other immigrants from their home countries or those with similar cultures and traditions," Hoang said. "Social capital within immigrant communities helps newer immigrants assimilate by providing them a network of support for job referrals, social services that are culturally appropriate, schools, language retention and other resources."
With the U.S. experiencing droves of refugees in the past, resources are hopefully set up to aid and accept the 10,000 Syrians.
Aside from the economic strength it will take to support mass quantities of refugees and their much-needed resources, Rahuldeep Singh Gill, who has a Ph.D in religious studies, provided insight as to some of the social challenges that refugees will face. Gill is a Religion professor who finds passion in studying texts, subtexts, and contexts, and is also the campus interfaith strategist.
With the U.S being known as "the melting pot," I worry about a loss of culture as the Syrians relocate and face the pressures of assimilation.
"We have examples of other refugee populations … that have also become part of the American fabric now," Gill said.
But being part of the fabric isn't all bad; in fact it can be similar to creating a quilt.
Gill recently traveled to Minneapolis, and provided me with some firsthand experience of the impact the Somali's have created in Minneapolis over the past 30 years.
"It's amazing what the Somali Muslim population has done for parts of Minneapolis," Gill said. "The part of Minneapolis where they mostly settled is thriving and I think they brought a lot of energy and culture there."
Hoang said she agrees that refugees bring rich culture and diversity when finding refuge in other countries.
"The U.S. has a strong history of immigrants who have significantly contributed to the social, political and economic prosperity of the United States. There may be assimilation challenges but immigrants usually bring a wealth of human capital, traditions, values and ideas that make the U.S. a melting pot," Hoang said.
Since the Somali refugees sought safety in the U.S. a generation ago, having the Syrian people find safety in the U.S. will be a wonderful learning opportunity for the new generation to come. Diversity comes in all forms, and is by no means limited to cultural heritage, faith and tradition. The Syrian people will bring so much more than that, and will challenge American's ability to welcome, accept and embrace change and empathize. I must agree with Gill that there "definitely will be tensions," though the tensions can quickly turn into rich experiences and opportunities.
There is a larger crisis at hand, and though welcoming 10,000 refugees is a start, Syria is still fighting a civil war and an incredible amount of instability.
As a college student, I find myself feeling more compelled to take part in my opportunities to make a difference and become involved in our country's happenings.
Let us take this challenge to find thousands a new home, to provide stability and grow from the terrors others face. Let us empathize and greet them with open arms, because refugees need to know that someone is on their side.
Laurel Skinner
Staff Writer
Published September 23rd, 2015