Will Trump really make America great again?
2016 is right around the corner and to many Americans that means one thing, it's time to elect our next president. It feels like every time I turn on the TV, go online or make conversation with friends, the topic of presidential candidates pops up.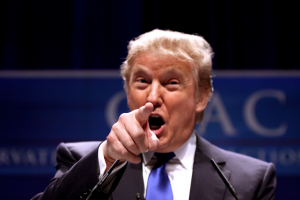 One candidate that seems to be getting a lot of media attention since announcing his bid for the position is Donald Trump.
Trump is a successful businessman and television personality having hosted the hit NBC shows, "The Apprentice" and "Celebrity Apprentice."
According to DonaldJTrump.com, "Trump is the very definition of the American success story, continually setting the standards of excellence while expanding his interests in real estate, sports and entertainment."
Trump has always been very vocal when it comes to politics. In 2011, he was extremely driven to prove that President Barack Obama was actually born in Kenya and was a Muslim.
According to CNN.com, Trump told Fox News "He [President Obama] doesn't have a birth certificate. He may have one, but there's something on that, maybe religion, maybe it says he is a Muslim."
I remember hearing Trump's comments at the time, and while I found them bizarre, I wondered if he would ever run for president. On June 16, Trump announced that he was doing just that.
While announcing his candidacy for President of the United States of America, Trump made controversial comments in regards to his views on immigration.
According to CBSNews.com, during his speech Trump called America a dumping ground for everyone else's problems. "When Mexico sends its people, they're not sending their bests … they're sending people that have lots of problems … they're bringing drugs, they're bringing crime. They're rapists. And some, I assume, are good people," Trump said. Despite all the controversy surrounding his comments, Trump rose to the top of the polls, becoming a front-runner for the Republican Party.
According to CNN.com as of Sept. 20, Trump is still the front-runner having 24 percent of Republican voter support ahead of Carly Fiorina.
Before getting into my thoughts on Trump I just want to share that I am neither a Democrat nor a Republican. I agree with certain social fundamental views from both parties and look to what candidate would be best to run our country instead of what political party they belong to. The 2012 election was the first time I ever got to vote. I knew very well that I was going to be voting for President Barack Obama. I not only believed in his vision for our country, but also in him.
That being said, I am in no way supportive of the views of Donald Trump. The fact is, I don't agree with him on many topics and don't think he has a grasp of how to correctly execute any important issues other than creating jobs in this country. What I do appreciate and respect about Trump however, is his courage to speak up and stick by his values. It's refreshing to see a candidate share their true feelings, not worrying about being politically correct. That is something that this country needs more of.
In all honesty, I firmly believe that Donald Trump is a phenomenal businessman. He has been able to use media to create a brand and empire and that is truly impressive.
Is Trump a great businessman?
Absolutely. Is he qualified to run our country? Probably not.
One thing is clear however, if Trump isn't elected the next president of the United States of America, which I'm not sure he will be, his bid for the title would have earned him great publicity and would make for a best-selling book or documentary.
Until next time, stay fabulous!
Natalie Kalamdaryan
Opinion Editor
Published September 23rd, 2015