All faiths are welcome at the table
Students and faculty gathered on Sept. 25 for the Interfaith Dinner located in the Lundring Event Center. People of all religions were encouraged to participate in this event, but the specific holidays celebrated were Rosh Hashanah, Yom Kippur, Yom Arafaht and Eid-Al-Adha.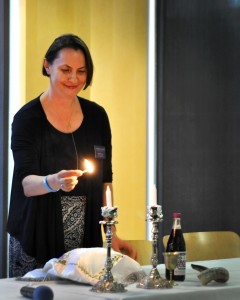 Interfaith Allies, with the help of Campus Ministry, planned this event.
"[The event] came from Dr. Aslan and Rabbi Belle. They both had this idea because they realized that their calendars were lining up and the holidays would be on the same day so they decided it would be a good idea," Interfaith intern Caleb Arndt said.  "Since Judaism and Islam are both branches under the Abrahamic religions they also decided to include Campus Ministry and have a Christian presence. Then they asked Interfaith Allies if we wanted to be involved and it happened."
The evening  began with readings by students who represented the Christian, Jewish and Islamic faiths. These students later participated in a panel in which they answered questions from Interfaith Allies' interns and the audience about their religions.  Discussion questions were also placed on the dinner tables to encourage meaningful faith-centered conversations as people enjoyed free meals.
"I am hoping people have a better understanding of the faith traditions that are not their own and that people had some deep and emotionally-challenging conversations because that is really the whole point of what we're trying to do," Arndt said. "We want them to think and get to a common understanding that they can then use to help the world."
Cal Lutheran Rabbi Belle Michael gave students insights on the Jewish holidays that were celebrated. Religion Professor Rose Aslan spoke about the Islamic holidays. A moment of silence was then taken to honor the refugees and the stampede at the Hajj.
"I think it's not about highlighting religious diversity, it's about creating space for dialogue for people to come together and meet each other and just be together," Michael said. "I hope people learn about other traditions and also begin conversations of relationships."
From blowing the shofar horn to eating the challah this event featured some of the traditions that make these holidays unique. However the focus of the night was on the community that people share, regardless of differences.
"I think that religion is often a sensitive topic and students don't often engage in discussions of religion on a regular basis with their friends," Aslan said. "They might not even know what religions their friends are so these events provide opportunities to talk specifically about these differences and similarities that they share or don't share and to find a common ground."
The event also highlighted the concept that diverse conversations like these are important in breaking stereotypes and preconceived judgements.
"Often in the media nowadays Muslims are stereotyped as being violent extremists so when you show a different side of Muslims and show that Muslims and Jews get along, then I'm hoping people will be comfortable to approach people of different religions," Aslan said.
Although Cal Lutheran is a Lutheran university, Aslan said Interfaith events such as this promote acceptance of all religions.
"We are a Lutheran university but we have the theme of 'Room at the Table' this year, and also one of our themes at Cal Lutheran is to push and grow in our faith," Aslan said. "Since college students are going to be our future leaders,  it's best to start with college students while they're still forming their opinions. I think the college level is the best place to do this kind of work."
Interfaith intern Mehak Sachdev, feels events like this Interfaith dinner are essential in creating a sense of belonging on campus.
"It's so important to have these Interfaith events because you don't want to feel alone on campus, and you don't want to feel segregated," Sachdev said. "We're a college community so you want to integrate everyone and you want to promote relations and work on things together."
Alexandra Randall
Staff Writer
Published September 30th, 2015