Symphony thrives in community
Professional concerts are usually associated with locations in large cities like Los Angeles or New York. However, Thousand Oaks residents have the opportunity to experience the same high-quality entertainment in their own backyard, presented by the New West Symphony.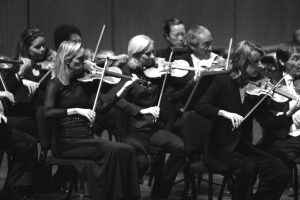 On Oct. 3, the Thousand Oaks Civic Arts Plaza will welcome back the New West Symphony, which has been a staple at the Civic Arts Plaza since 1995. The orchestra will be conducted by Marcelo Lehninger, a 2014 Helen Thompson Award winner for outstanding work as a music director for the New West Symphony. Lehninger is considered one of the most gifted conductors of his generation.
There will be six performances in total and each performance will feature a unique solo artist. For the first performance, the 2015 Grammy award winning guitarist Jason Vieaux will join the ensemble.
Their talented symphony members produce the highest quality orchestra music that is both entertaining and inspiring. However, the New West Symphony goes beyond entertainment and is an active champion for music education.
"When you have an orchestra of our kind in your background, then you have a champion for music and music education," Kiren Bansal said, the director of community engagement and development for the New West Symphony
Music and elective programs have been cut drastically, if not entirely eliminated due to limited budgets, Bansal said. This leaves kids unable to experience musical education in any form. The New West Symphony believes music education is critical to a child's entire development, and something they should not be deprived of.
"Music is very important to a child's emotional development. We spend a lot of time in schools focusing on academic intelligence, but we don't spend a lot of time with their emotional development," Karen Gatchel said, the education programs manager for the New West Symphony.
Gatchel said that today too much emphasis and funding is put towards testing and not much effort has been placed on the arts. However Gatchel is optimistic change is here.
The organization has therefore dedicated a large portion of time and funds to make music education a possibility in their community as frequently as they can, Bansal said.
The New West Symphony is also a non-profit organization that provides music education programs to over 17,000 students within the community. There is a variety of programs available to students from discounts to interactive experiences with the orchestra and instruments.
One of their most popular methods of musical education is their "Musical Petting Zoo." Trained musicians volunteer their time to teach kids the physics of sounds and all about their orchestral instruments. They travel to various cities and schools giving them an opportunity to test out instruments of brass, percussion, woodwind and strings where otherwise they may have not been able to.
"We're using music education as a tool for social change. The idea is that we've gone to, quite frankly, the poorest schools in Ventura that don't have music education, so we bring in what resources we can provide like teachers and instruments," Bansal said.
Gatchel said, "Music teaches all kinds of skills: performing in front of people, discipline, group interaction, teamwork. All kinds of skills that employers will require in the future."
They may not end up being first chair in an orchestra, but they will be first chair in their communities because of their added skills. It starts them off young in a positive and working environment.
Gatchel also encourages students from high school or college to come and experience the symphony as well. With their new CONNECT! club, high school and college students experience the New West Symphony concerts at discounted prices and provides additional experiences. These experiences include meeting the musicians and backstage tours.
Bansal said she is always encouraging students to take advantage of the discounts given to students.
The New West Symphony also works with California Lutheran University. President Chris Kimball is on the board of directors. Bansal said they are always looking for interns because it allows local students to gain experience in something they're passionate about.
A senior student from Cal Lutheran, Allie Leslie had an internship with New West Symphony that turned into a part time job as an administrative assistant.
Leslie is a performer and hopes to pursue that in the future.
"It gives me more options in my field, it gave me the business experience that I never had before," Leslie said.
Gatchel said the arts should be supported for the greater good of the student, and New West Symphony strives to make that happen.
"There's nothing quite like live music and experiencing something like this together," Gatchel said. "That in-person connection is so important especially in a world that is increasingly digital. You really can't get that experience."
Mary Callaway
Staff Writer
Published September 30th, 2015