Kingsmen split double-header
On Sept. 23, the Kingsmen water polo team battled hard in a double-header and were able to earn a split, defeating LA Valley College 8-7 and losing a close match to Cerritos Community College 14-13.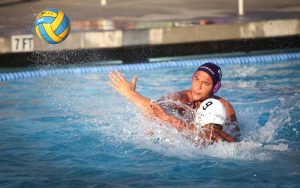 After having a season opener victory over Ventura College, the Kingsmen gained a significant amount of momentum coming into this weeks California Lutheran University Mini-Tournament. They were able to take this momentum into game one, and used two fourth quarter goals by senior attackers AJ Franklin and Shea Craig to defeat Valley College.
The game directly after against Cerritos Community College started off with a bang, with Cerritos beginning with a shot to the Kingsmen goal and an impressive block from sophomore goalkeeper Nick Loomis.
After regaining possession, Cal Lutheran's offense was aggressive right away and charged to Cerritos' goal. Switching off possessions ended up in a striking crossover goals by sophomore defender Chris Gardhouse and Franklin.
Control of the ball was a fervently fought battle most of the first period, however Cerritos edged out ahead when they ended the period 3-2.
Despite being just slightly behind, it did not seem to affect the Kingsmen as they responded with a stand off with Cerritos ending in a Cerritos point.
Our Kingsmen countered with a skillful behind the back shot made by senior defender Jack Acampora, making the score 4-3 in favor of Cerritos.
Cerritos would end up scoring three more, ending the second period with a 7-4 lead.
This lead proved to be a tough place to retain, as the Kingsmen responded with an electric second half. Immediately gaining possession, the Kingsmen answered with an notable block by Loomis using his head.
Momentum was gained from a less than successful first half for Cal Lutheran with a goal within the first minutes of the third period made by sophomore center Ryan Moguel. This momentum allowed Moguel to make yet another goal within minutes bringing the gap closer at 7-6. Cerritos would close the third period with two more goals with a score of 9-6.
Cerritos started the fourth and last period with a respectable two goal streak while still in the lead at 11-7. Cal Lutheran would not go down without a fight, as freshman attacker Jack Kirby raised the score to 11-8. The Kingsmen used this to pull off the logest steak of the game getting them three goals along with a penalty shot made by junior attacker Zack Card tying the score at 12.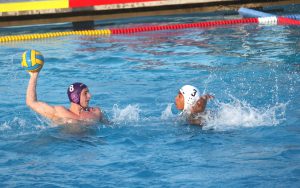 An intercepted pass by Acampora lead to a blocked shot but reclaimed by Card which resulted in a goal giving the Kingsmen the lead 13-12.
Cerritos would end the fourth period with two more goals leaving with a 14-13 victory much to the dismay of the Kingsmen.
Craig, who scored four goals on Wednesday, said that the Kingsmen's chemistry has been under work since last season in that it has amplified to bond the team in and out of the pool. It is a common occurrence among teams that build this type of harmony to excel as a team and a brotherhood in this case.
"Our team chemistry hasn't been any better than this year or my four years at Cal Lu," Craig said.
It seems this year is coming come down to chemistry, something the Kingsmen are on their way to mastering.
"My teammates and I are all on the same page," Craig said. "This year I have been working on being more of a team player rather than focusing on myself. When I help others, it offers clear benefits to my team."
Coaches are an integral part to the processes that make up a winning team and facilitate collaboration like our Kingsmen. Part of this is boosting and maintenance of morale within the team, a factor covered by the team and coach Craig Rond.
"Winning is always fun as it ensures our hard work is paying off," Rond said in an email interview. A reappearing theme is the abundance of confidence even in the face of a defeat. What is commendable is the excitement felt by Craig for their next game Friday against Air Force.
Yet another player that deserves recognition is Franklin, who welcomed a challenge like Cerritos, and also welcomes new members of their team.
"We have a lot of new freshman that are just raising the level of play, obviously the guys who have been hear for a while are hungry for a win," Franklin said.
Connor McKinney
Staff Writer
Published September 30th, 2015