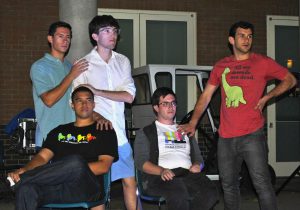 California  Lutheran University Improv Troupe's newest members have successfully integrated themselves into the beloved group. The six new members  include Andrew Castro, Ryder Christ, Grant Escandon, Cecilia Lindgren, Frankie Manes, and Matthew Waxman.
The auditions were competitive as only six of the 20 hopefuls earned a spot on the troupe. Christ, a senior communications major with an emphasis in film and television production, described the process as similar to that of joining any other theatrical group.
Christ has been involved with improv throughout his four years at Cal Lutheran by taking the course his freshman year and attending every show.
Christ contributed to the show his sophomore year by assisting with lights and sound. His dedication to the troupe led him to decide to audition his senior year as he had been unable to audition his junior year due to prior commitments.
"Now that I am on the troupe it is almost surreal because for such a long time I had just been the guy that faded the lights or played a sound bit for the troupe, but now I am the guy on stage," Christ said.
Another new member is Grant Escandon, a sophomore music composition major with prior improv experience. His theater experience includes musicals and shows but his preference has always been improvisation.
"My favorite thing about doing improv with friends is making each other laugh and just having fun," Escandon said.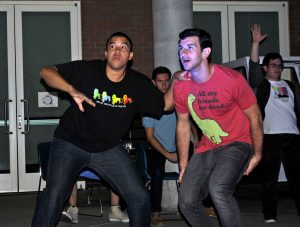 The new members adapted well with the old members who have more experience and view them as a resource during their performances. Although several of the new members have plenty of prior experience with improv, such as Manes, they still view the older members as a source of guidance.
"When I'm doing a scene with Matt Case and we are just sort of doing whatever, I know that he is there. He is sort of like an anchor. If I ever get lost or just do not know what is going on, it is good to have them," Escandon said.
Improv is not only a fun experience for the performers but for the audience as well. Sophomore Amanda Slider enjoys attending improv as it not only provides an enjoyable performance but also enables the audience to meet one another.
"Going to improv is always the highlight of my week. It's a great place to meet new people and connect with other students. Its just a great time, and the best part is we get new pick up lines every time we go," Slider said.
Slider said she feels the newcomers really contribute to the experience.
"The new members seem like they are really cohesive and can play off each other really well," Slider said.
Freshmen, although they have no experience with the former troupe, also enjoy attending the shows every other Thursday.
"I live far from campus but I definitely think the show is worth coming back to school late for. It's fun and it helps me forget about the stress of classes and work for a little while," Freshman Abel Quiroga said.
Quiroga, who is hesitant to join in on extracurricular activities, mentioned that improv is the first to actually interest him. He is hoping to earn a spot on the troupe at one point during his years at Cal Lutheran.
For the audience, improv is fun and a good time. For the performers, it's just a little bit more significant.
"For me improv is something constant and safe," Christ said.
America Rojas
Staff Writer
Published October 7th, 2015