Many organizations teamed up with California Lutheran University on Oct. 3 for Service Day in Kingsmen Park.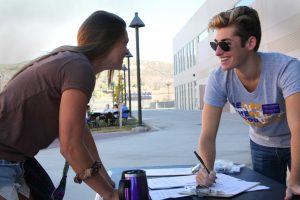 Nonprofit organizations collaborated with individual student volunteers and individual student organizations to display and expose their service. The event started at 8:30 a.m. and ended around 12 p.m.
The Community Service Center at Cal Lutheran hosted the event in an effort to link the school with service organizations around Ventura County. Nicole Cozzi, coordinator for community service at Cal Lutheran, produced the event.
"Service Day is a collaborative effort with the United Way of Ventura County when nearly 100 students go to volunteer at local nonprofit organizations. In addition to Cal Lutheran, several other organizations will be participating from banks and businesses to other universities," Cozzi said.
One organization featured at the event was Ride on Therapeutic Horsemanship, which provides adaptive horseback riding to children and adults with physical and cognitive disabilities. Also included were the Samaritan Center, the Simi Valley Library and the SEEd Garden.
Companies volunteering through the United Way included Amgen, Wells Fargo and Anthem Blue Cross. A few clubs from Cal Lutheran participated in the service event to represent the university's involvement in community service. Those clubs included aCLUupella, the dance team and the Accounting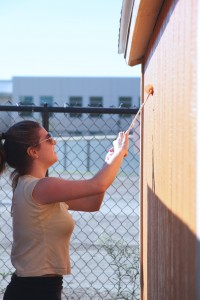 Association.
A featured organization at Service Day was Project H.O.P.E., which stands for Helping Our Community Progress Efficiently. This project began two years ago and their goal is to help the homeless and those in the community who need help. Joe Preciado, deputy at the Camarillo Police Department, helped link homeless outreach with law enforcement.
"We want to reach out to the homeless and make them feel like a valuable part of the community. We want to establish relationships with and help them build trust with us and the rest of the organization," Preciado said. "We're glad this event helps bring awareness to our project and the issue of homelessness in Thousand Oaks."
The event offered carnival games, music and food for all who attended. There was a raffle at the event to raise money for the Walk to Fight Poverty. This money will be used to hopefully fund another similar event in the near future.
The Boy Scouts of America was another organization that played a large role in Service Day. They were involved in multiple areas of Kingsmen Park to display their acts of service to those who attended. Senior Patrol Leader of Troop 485, Joseph Schafer, was the director of the Boy Scouts of America booths at the event.
"We want to teach virtues that boys will use later in life. My Eagle Project is here to help out the community by earning donations. It teaches our scouts how to run a business in a way," Schafer said. "The organizations here are raising money for the people who need it. I was glad to help with the carnival games that were part of my Eagle Project."
The Community Service Center hopes to continue the Service Day event along with their mission to educate leaders rooted in service and justice.
Jeff Rebello
Staff Writer
Published October 7th, 2015