This season the Regals soccer team has "drafted" a brave, young survivor of Retinoblastoma named Sophia Tapia. Sophia dresses up with the Regals and attends practices and games. She is part of the Regals soccer family.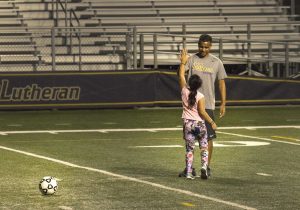 As part of an initiative to raise awareness about childhood illness and the importance of supporting these young children, California Lutheran University has joined the Cancer Fit program.
Cancer Fit Inc. is a wellness and exercise program for adult and childhood cancer survivors alike. This program has been a part of Cal Lutheran athletics before, sponsoring Kyle O'Connor as part of Kingsmen baseball last season.
Located in Thousand Oaks, California, founder and CEO of Cancer Fit Robb Bolton, contacted parents Evelyn and Frank Tapia as a part of helping Sophia follow her passion for athletics, soccer especially.
"She's very outgoing," Frank Tapia said. "She loves soccer, she plays every single weekend. This just seems like a good fit given the welcoming atmosphere CLU has given us."
Frank Tapia was particularly stirred by the open-hearted response of the team. According to Frank Tapia, it was an amazing gift for Sophia to be invited to the soccer team.
It is hard to imagine what the Tapias have gone through as a family, however what might provide some solace is the compassion felt for those in their position. Compassion has not only been felt by Cal Lutheran, but also by the athletes that have gotten to know Sophia over her time as a Regal.
As a measure to encourage more support on the field, the entire team also became part of the "Replace the Lace" campaign by Compass to Care. According to their website, Replace the Lace allows one to support kids with cancer.
Sophia certainly seems to feel welcome, donning cleats, shin guards  and even a jersey. Not only does she want to dress the part, but she also has ambitions to play soccer alongside players like the Regals according to senior midfielder Brittany Eremita.
"I think she really enjoys it. She always shows up to our practices dressed up in her cleats, shin guards and jersey ready to go. Sometimes she can be a little shy but we always do our best to make her feel welcome," Eremita said in an email interview.
It is clear Sophia's influence has brought a new dimension to Regals soccer in that it has made the team more aware of children who would want to be in their position.
"Whenever we are struggling in a game or at practice, Coach Frank [Marino] always reminds us that there are girls like Sophia who would love to be in our place or position but they physically can't," Eremita said.
In terms of morale, it has done wonders on and off the field. Senior captain Mallory Carcich said she  has been moved by Sophia's story. Carcich has served as Sophia's "sports agent," signing her to a contract on to the Regals' team.
This encouragement has allowed the team to realize what it actually means to support a person like Sophia. It means a lot to not only take her under their collective wing, but to offer mentorship to a girl who deeply loves soccer.
"Her love for the game has motivated and reminded us to make a place on our field for Sophia. I think it does push us to the next level," Carcich said.
During her time on the team, Sophia has learned much from players and leaders like Carcich. That much is clear. However in the time Sophia and the team have interacted, the Regals have learned just as much, if not more.
"I just want to be there for her, as a person and a player," Carcich said.
In turn Carcich said she has createdd a kinship with Sophia, one that allows her to know a different side of support for children with cancer. In many ways, the induction of Sophia has taught the Regals to be thankful of the gifts they have.
Connor McKinney
Staff Writer
Published October 7th, 2015