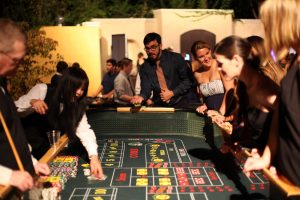 Another successful Homecoming has come and gone at California Lutheran University, with events hosting near 500 attendees each.
Cal Lutheran friends, family and alumni were welcomed back with concerts, a golf tournament, Monte Carlo, a carnival and the family reunion hosted by Student Life on Oct. 9.
Attendees enjoyed competition, talent, winning trips to Disneyland and Vegas and free tacos.
Oct. 10 began at the crack of dawn with friends, families, students and alumni racing out of the starting gate in Kingsmen Park for the annual Loop da Lu 5K. The Parent and Alumni Relations office brought in Chick-fil-A to surprise racers with chicken biscuits at the finish line and each participant received an official racer's medal to commemorate the event and recognize participation and hard work.
Cal Lutheran's Homecoming Carnival, hosted by Associated Students of California Lutheran University Government Programs Board was in Mt. Clef Stadium from 7 – 11 p.m. later that day. Admission was free and students received tickets for free food trucks including tacos, popcorn, cupcakes and shaved ice.
"I really like that you're here with all of your friends," said junior Sarah Parson who has attended the carnival every year.
Sophomore and committee chair Andres Elvira organized the carnival event and worked with his committee to put together the carnival with a $16,000 budget.
"We began [planning] during the summer, contacting all the vendors," Elvira said. "From program evaluations I gauged what went well and what didn't go well in past years."
Elvira worked with his committee to bring in an obstacle course, a blow-up activity, a carnival ride, three food trucks, and entertainment throughout the evening.
"I really wanted to make every dollar count," Elvira said. "Even if it was just one person getting one thing, I thought that was way better than having half the people who came not get anything."
Senior Ashlee Bowen attended the carnival with family and friends.
"My favorite part is being here with my family and bringing all the CLU family together," Bowen said.
Homecoming brought out an estimated 1,000 people, reaching similar numbers from previous years. With various activities to choose from, the Cal Lutheran carnival is by far one of the largest events students host during the weekend.
Homecoming gave many students and alumni the chance to reconnect and spend time with loved ones. From tailgates to sporting events, to bounce houses at the carnival and ice cream with the president, California Lutheran went to great strides in order to maintain a tight-knit and family-like community.
Laurel Skinner
Staff Writer
Published October 14th, 2015