The humble All-American
Expertise and humility don't always coincide, but in the case of Regals volleyball player Allie Eason, they most certainly do.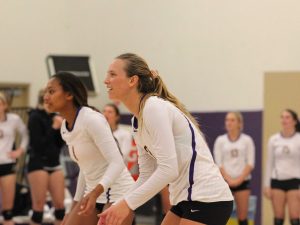 Her freshman year she was named the Southern California Intercollegiate Athletic Conference Newcomer of the Year. Since then she has continued to shine. Eason has earned American Volleyball Coaches Association All-American as well as an AVCA All-West Regional selection in 2013 and 2014. She was selected as the Ventura County Star's Female Athlete of the Fall in 2014.
In addition, she has become one of six Regals to reach 1,000 career kills. She holds the fifth spot on the all-time list with 1,040 kills. She continues to do well this season with 113 kills in 20 games, according to CLUsports.com.
Despite all of the accolades and awards, Eason emphasizes the power of teamwork over individual achievement.
"The only reason I was able to be successful is because everyone on my team was working hard and doing what they were supposed to do," Eason said. "I think awards are mostly an attribute to the team rather than the individual, especially in volleyball because it's such a team sport and you can't do anything well unless your teammates are playing well too."
Although Eason may be humble, women's volleyball Head Coach Kellee Roesel is not afraid to praise her outside hitter.
"She was a top recruit," Roesel said. "I saw her play as a sophomore in high school and knew right away that she was our kid. She is so dedicated and hardworking and such a good leader. I just can't say enough about her. I was thrilled when she committed to CLU. And she's grown so well here. She's gotten a lot tougher throughout the years. I've never met someone who didn't like or respect her. A lot of times with our kids it's one or the other, but she has it all."
As a senior team captain, Eason sets a strong example for her teammates to follow.
"Sometimes we ask the other players when they're not doing as well, 'would Allie do this?' She is such a great example," Roesel said. "I can't believe she's a senior, I just hate to think about it. She really is the most well-rounded player I've ever had. She works hard even when nobody's looking. I think her love for the game exudes and extends to the other players."
This firm work ethic is important to Eason. Even though she injured her hamstring last year and sprained her ankle at the first tournament this year, she has continued to play.
"I feel a lot of responsibility to make sure I'm always doing my best and helping other girls to do their best as well as staying on top of all the things we have going on," Eason said. "Being captain is a fine line because you don't want to be someone that you're not but we're supposed to make sure that we're pushing everyone and always pushing ourselves."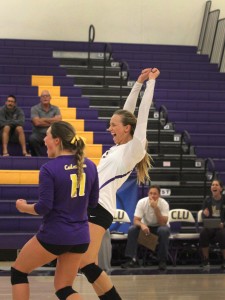 Even though Eason has had a great deal of success in her volleyball career, it wasn't her choice to play the sport initially.
"I started playing in seventh grade and I was kind of forced into it," Eason said. "[At the time my best friend's] older sisters all played and she had just started playing a year before. I was tall for my age so I was kind of bullied into it but I ended up loving it."
As a senior, Eason will graduate this spring with a major in psychology and minor in business. She hopes to go into industrial organizational psychology or human resources.
"I love volleyball too much to not have it in my life when I'm done playing," Eason said. " I want to be able to keep it somehow and I think coaching would be a great way. I've done it before and really loved it."
Eason may have given a lot to volleyball over her years here, but the sport has returned the favor.
"[Volleyball] has definitely been the best part of my college experience," Eason said. "It's shaped all the years that I had here. A lot of the stuff I do is with my teammates, even outside of season. Most of my teammates are my best friends so it's been a very big part of my time here."
Alexandra Ran∂all
Staff Writer
Published October 14th, 2015