Students, parents and alumni filled the stands on Oct. 10 to cheer on the Kingsmen during their Homecoming game against conference rival the University of Redlands.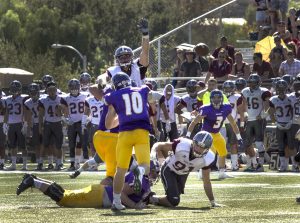 This was the 44th time these two teams met. The Kingsmen were looking to take back the Smudge Pot, a trophy that was implemented in 2012. It was donated by Paramount Citrus in Delano, California to celebrate the heritage and history of the citrus industries in the Ventura and San Bernardino Counties.
Senior tight end David Lederer said the Smudge Pot tradition started his freshman year, where Cal Lutheran won its first and only Smudge Pot. Redlands has been victorious the past two years and extended that streak to three with the recent victory.
"We [wanted] redemption and to paint [the smudge pot] back to CLU colors," Lederer said.
The game proved to be a defensive struggle, and while the Kingsmen fought hard, they came up short, losing 13-10 after a last-second field goal from the Bulldogs.
Redlands started the game with some momentum, moving the ball down the field and taking an early 3-0 lead on a successful 47-yard field goal.
The Bulldogs' lead was short lived, as the Kingsmen put up a 15-play, 90-yard drive in which Adam Friederichsen connected with both Alix Moise Jr. and Connor Allen. The drive was capped by a 3-yard run by senior running back CJ Washington.
In a game that saw little offensive action, the Violet and Gold headed into the half with a 7-3 lead. Both teams' rushing offenses were stopped by strong defensive plays.
"Both teams played championship-level defense," Head Coach Ben McEnroe said, according to clusports.com "Hats off to Redlands on the defensive side. I thought they took away some things we were pretty good at."
The Bulldogs came out of the gates strong in the second half and scored on their first drive after being stopped on the previous five. A 54-yard drive resulted in a 10-7 lead for the Bulldogs.
After a series of unsuccessful drives from both teams, the Kingsmen were finally able to tie the game with a 28-yard field goal by Chris Taylor after a time-consuming 13-play drive.
According to clusports.com, "with just 1:40 left to play the Kingsmen defense would come onto the field for one last time, however an unfortunate and costly pass interference play would enable Redlands to score on a field goal and secure the victory."
"Defensively our guys really battled. [They] put us in a position to win," McEnroe said. "It was just unfortunate we couldn't make the plays we needed to on that last drive to give us a chance to go into overtime to win the game."
Defensive leaders included Trevor Roe who had 12 tackles and Ronny Camacho who tallied 7.5 according to clusports.com. As a team the Kingsmen totaled five sacks which came from Josh Heidemann, Dalton Santos, DeJon Rothschild, Kody Duffy-Huerta and Camacho.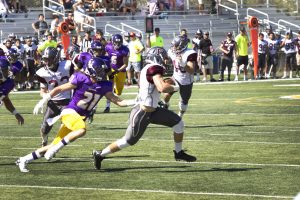 The Kingsmen offense was held to just 108 rushing yards, which has been the basis of their offense this year. Senior running back Ben Chavez II was held to just 34 yards on nine attempts.
Senior tight end Allen led the Kingsmen with four catches for 43 yards. Other offensive leaders included Washington with 35 yards and Chavez with 34 yards.
Allen said despite the Homecoming loss, the Kingsmen still retain their goal of making the playoffs and that a conference championship is still possible.
"[We were] hoping for [Redlands] to lose so we [could] get their spot," Allen said.
Throughout the game it was a hot day with temperatures into the high 90s, but fans still gathered around to support their Kingsmen. Several alumni were also there cheering their team on.
Alumni Gerald Halweg, from the class of 1965, said that Cal Lutheran played their best and blamed the heat for the loss. He and his wife met at Cal Lutheran and picked their seats to be at the very top of the 50-yard line.
Halweg does all he can to support his alma mater and is president of the 5th Quarter Football Club, which raises "funds and fun" for football and other sports.
The Kingsmen are now 3-1 overall and 1-1 in SCIAC.
Cal Lutheran will be on the road Oct. 17 as they travel to take on Pomona-Pitzer at Merritt Field.
Lindsey Hunter
Copy Editor
&
Sami Steele
Staff Writer
Published October 14th, 2015